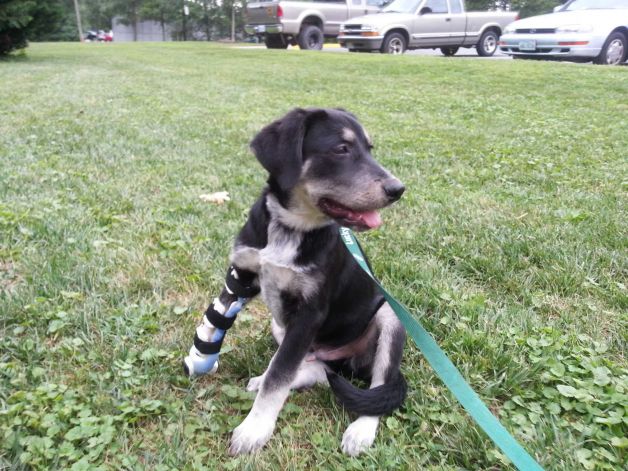 A 4-month old puppy is read to find his forever home after receiving a prosthetic foot. The puppy, named Evan, was born without his right front paw.
A few months ago Lucky Dog Animal Rescue saved a pregnant border collie mix from a high-kill shelter in South Carolina. A few days after rescuing her she gave birth to 10 puppies. Evan's nine siblings were healthy and happy, but Evan was born without his right front paw.
Since then Evan's mom and siblings have all been adopted, but Evan has had to stay behind at the shelter to obtain treatment for his paw. He was able to move around fine without his front paw, but he developed pressure sores and hated wearing a protective bootie.
Lucky Dog Animal Rescue considered all the options for Evan and determined a prosthetic leg was the right course of action for Evan. The next step would be raising the funds to get Evan the prosthetic.
"We wanted to give Evan the best life possible, no matter what the cost," said Mirah Horwitz of Lucky Dog Animal Rescue. "His strength and determination are inspiring, and it's amazing to see him thriving. He enjoys life just like any other dog because he doesn't know any different."
It would cost around $1250 to get Evan the prosthetic and veterinary care he needed. Lucky Dog hosted an online fundraiser and reached out to their Facebook fans to help Evan. In two weeks more than the necessary funds were raised. All extra funds raised are being put towards Lucky Dog Animal Rescue's critical Care Fund.
Now Lucky Dog is looking for the perfect family for Evan. Those interested in adopting Evan can visit Lucky Dog's website.
"I can't wait to send Evan home with his new family," said Horowitz. "Evan didn't let his disability slow him down – he met it head on and he has triumphed. I think we can all learn something from a puppy like Evan. I know I have.