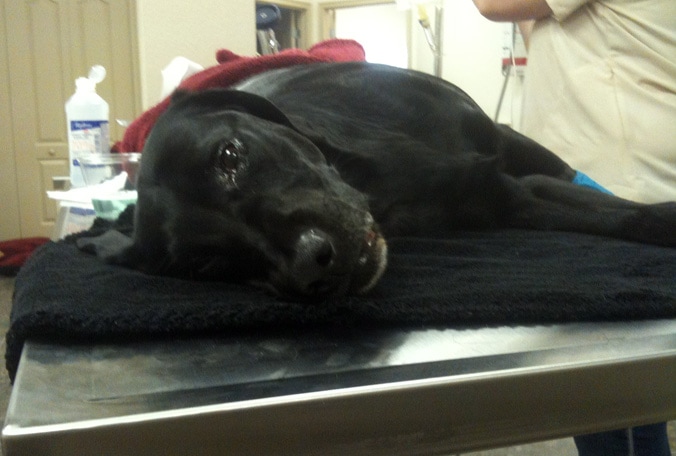 Many pet owners know the feelings of sadness and helplessness when their fur-babies get sick and there aren't feasible ways to treat them.  Now they may be happy to hear that veterinarians are able to use dogs' own stem cells to treat their ailments.
Rescue dog Powder, a seven-year-old black Lab, helped save seven people from the rubble in the 2010 earthquake in Haiti.  Now she needs some help.  She's had issues with her joints that have limited the amount of work she can do, and has difficulties just moving around.  Powder's handler, Lt. Brian Smithey, has seen that she have a number of treatments for her aching body.
"Arthroscopy on both shoulders, both elbows – we kind of thought we took care of the problem," Smithey said.  "But now, we're finding out that she had some tendon issues, and she needed some further treatment."
The treatment she will be receiving now is stem cell replacement therapy, performed by Dr. Terri Rosado of Flagler Beach, Florida.  She said that even though her practice has only been open for a couple weeks, this operation is a no-brainer.  Some vets say it is even easier than spaying a dog.  It's a one-day procedure where fat will be taken from Powder and the stem cells separated.
"I never accepted that old age is a 'disease,' and I never accepted the thought that there just isn't anything else that we can do," said Dr. Rosado.  "This really gives us the opportunity to help more animals."
Erica Kent, who works with Medivet, the company providing the machines and training for this treatment, explained what happens with the separated stem cells:
"Dr. Rosado will inject those joints that are having some problems, and then we'll give some, as well as IV, or systemically, to help other areas of the body that might be in need."
Powder should respond to the injections within 30 days.
The treatment is costly, at about $1,800 a pop, but may be well-worth it for a pet owner who does not want to see their animal suffer.  It will certainly be well-appreciated by all those who Powder may continue to save in future disasters.