When a malnourished dog and her puppies were discovered living in the woods, a South Carolina community rushed forward to provide food and medical care. Now Reyna and her puppies need loving families to take them home.
Jackie Kane was driving home one night in Aiken, South Carolina when she saw a starving dog who looked like she was still nursing. The woman coaxed the dog to come to her by offering crackers, which she eagerly scarfed down. After gaining her trust, Jackie lifted the dog up and placed her in her car.
She took the mother dog to the vet, where it was discovered that she was loaded with fleas and ticks. The dog, who was called Reyna, was still lactating, and her puppies needed to be found fast if they were to survive.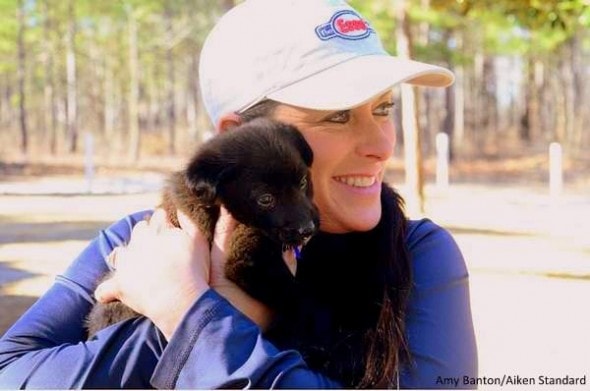 Jackie headed back to the location where she found Reyna, accompanied by friends Amy Luarca and Lisa Sommers. Letting Reyna lead the way, the women ventured into the woods. Vines and thorns made their trek a challenge, and after about 30 minutes, the trio began to get discouraged.
But soon they came across an abandoned old shack, and Reyna's tag started wagging hard. They listened, and could hear puppies crying.
"I thought, 'Oh my God, this is it. This is it,'" Jackie said.
Reyna fed her puppies, and when she was done, the women gingerly carried the puppies to Jackie's vehicle. Reyna didn't mind at all.
"You could tell she was the happiest dog in the world," she said. "And for that dog to trust us, to have that kind of bond with us is beyond words."
Soon, community members flocked to help. People donated money to pay for veterinary care and food. One anonymous donor provided enough to allow Reyna and gang to stay with Melissa Hartley, owner of Sindar Kennel and professional canine behavior consultant. She is now working with all of them on their manners.
Soon, the puppies will be ready for homes. There are six girls, and one boy – Tank – who has already been spoken for. Jackie says she's going to be picky about where they end up, wanting to make sure they are in the best homes possible. Reyna deserves a home with someone who will "treat her like a queen."
Reyna and the pups have been putting on weight and making tremendous progress in the last few weeks.
"It's really been an amazing journey," Jackie said. "Just to see how far the puppies have come along and Reyna, too, it's just one of the best feelings ever."
The puppies are available to adopt on Sunday, for a $50 fee that covers the SPCA's low-cost spay and neuter certificate, their first shots, deworming and three weeks of behavioral training. Anyone interested may obtain an application by emailing Amy.