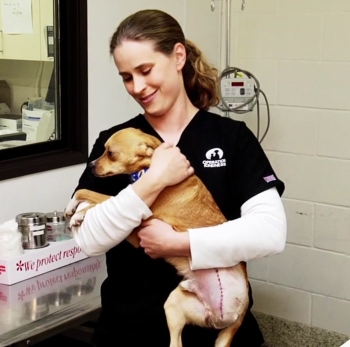 Founded in 1976, Operation Kindness is the oldest and largest no-kill shelter in North Texas, and has saved nearly 65,000 animals since inception. The shelter cares for an average of 200-250 animals on a day-to-day basis, with another 60-80 animals in foster homes. More than 3,000 dogs and cats are assisted by Operation Kindness each year.
Operation Kindness is a 501(c)(3) nonprofit organization and receives no government funding. All income comes from donations from individuals and businesses, adoptions, fundraising events and the sale of pet-related merchandise.
Operation Kindness provides quality care for homeless or unwanted cats and dogs in a compassionate, no-kill environment until they are adopted into responsible, loving homes, and is a leader in the community in promoting humane values through education and awareness.
Operation Kindness' staff and volunteers frequently speak to community, school and youth groups to educate on pet overpopulation, the importance of spaying/neutering pets, responsible pet care and kindness to animals. The Animal Care Team (ACT) of Operation Kindness visits local nursing homes every month. This year the team has made numerous visits to Kirby Manor and Heritage Gardens, both located in Carrollton.
Please take time to visit their extensive website for a chance to see all of the terrific deeds Operation Kindness does in the name of our best friends, and consider donating as a show of support for this exemplary rescue group.
See their gala day video below for a closer look at what's possible when humans make and keep an unwavering, long-term commitment to work together for the betterment of animals – 65,000 of them and counting.