Dexter, a six-month-old pig, was nearly starved to death when he was rescued.  He was taken in by the Ashville Humane Society, who set him up with a foster mom.  But she decided to adopt him when he adopted one of her dogs!
Poor Dexter was so underweight that he could barely stand.
"I estimated that he had less than a 50 percent chance of surviving through the day," Michael Mustin, medical coordinator at the AHS, told The Dodo.
Under his care for the next two weeks, Dexter began to walk again.  Diana Dauer, who had recently fallen off a horse and suffered a traumatic brain injury, was recovering at home, and had some time to foster him.
She created a Facebook page for him to help find someone to adopt him, but before long, she realized that there was no way she could give him up.
"One day he was just snuggled up with Moose and later with my hound dog, Houston," Diana explained.  "I was floored! They had the choice to lie anywhere but there they were spooning. I realized that Dexter had adopted us and I was the only one that hadn't realized it."
Houston had also been found starving.  The two couldn't know exactly what the other had been through, but they developed a very deep bond.
"Houston was very gentle in playing with Dexter and he was the first I trusted around Dexter," Diana said.
"Fast-forward a few months and Dexter and Moose are the unlikeliest of friends.  Moose, despite the stereotypes of his breed, is one of the most lovable and love-giving dogs I have ever met. He brings toys to Dexter and shares food with all the household animals. He snuggles with everyone."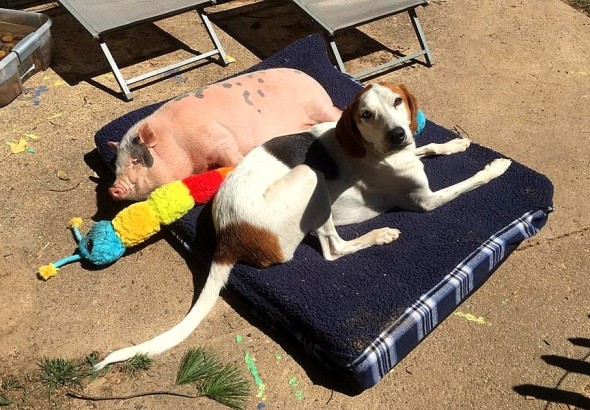 "Moose just has a good sense of how to interact with Dexter — they play, they sleep together, they would probably share food together (if I would let them), and they 'talk' with each other when there's a closed door separating them. Moose will sit outside of Dexter's door and make sounds and Dexter will respond with grunts in kind."
"His personality is still emerging but he is very expressive about what he likes and what he doesn't like.  I've read that pigs make over 20 distinguished sounds. So far we're at a little over 10. He says things like, 'Let me in,' 'I'm hungry,' 'I'm thirsty,' and 'Don't touch me.'"
For now, Dexter has his own room, and can come and go out as he pleases.  Diana is working on building a barn and play area for him with rooting areas and things to keep him busy.
"He really enjoys solving puzzles, so I've been collecting toys where he has to pull on something and push on things to get a treat," she said.
Moose will likely be spending a lot of time out there with him.