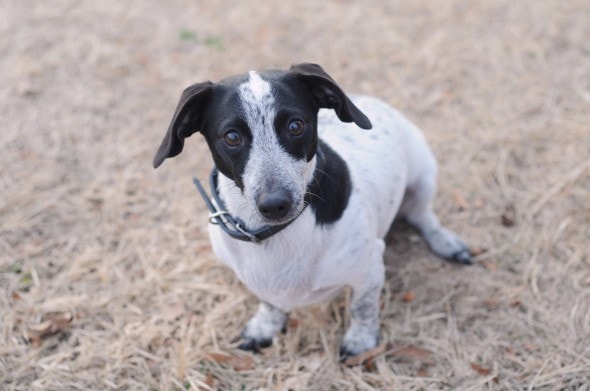 Jack's journey to finding his forever friend began in June 2013, when the adorable dapple Dachshund mix was surrendered by his former owner to the Oklahoma City Animal Shelter. After he was surrendered, it was clear that the odds were stacked against him.
Since summer is one of the busiest times of the year for the shelter, they were seeing hundreds of animals coming through their doors every week. To make matters worse, a tornado had just affected over 15,000 of central Oklahoma's residents not even a month before! Thousands of families were dealing with the devastation, leaving many pets without homes to go back to.
Jack was terrified and confused. He was dangerously close to facing euthanasia up until the moment the OK Humane Intake Coordinator from the Central Oklahoma Humane Society saw his sweet nature hidden below the surface of fear. He was subsequently transferred from the city shelter into the OK Humane Adoption Program and immediately placed into a foster home, saving him from death. What they did not know, but would soon discover, was that this one little saved life would soon have a tremendous impact on the life of a little human.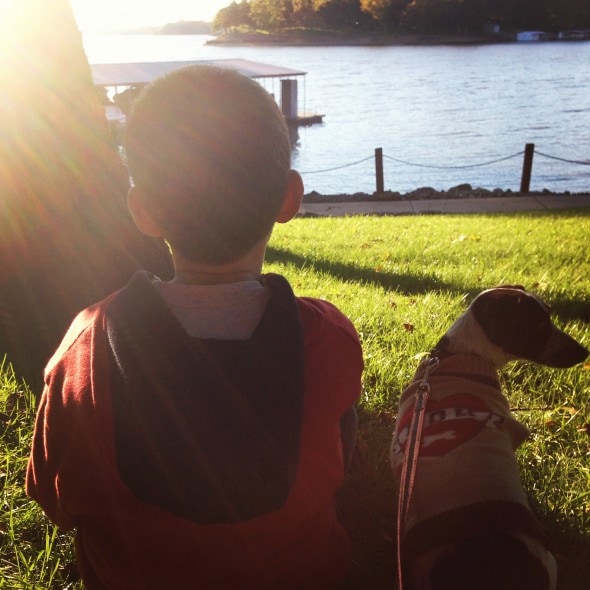 Following his rescue, Jack's foster parents helped him to come out of his shell by showing him what true love felt like. The foster family worked diligently with Jack so that he would understand basic obedience commands for his new family.
Several weeks later, a family visited the OK Humane Adoption Center, searching for a very special companion for their seven-year-old autistic son, Rob. Autism hinders the ability to form normal social relationships, which in turn can cause a child to feel very isolated and alone. One common characteristic of autistic kids is the inability to verbally communicate with others, which Rob suffered from.
Rob was also afraid of animals at the time, yet he desperately needed a companion to calm his soul. His family knew that a dog could teach him the value of empathy.
When they went into Jack's adoption room, they immediately felt a connection between Jack and Rob. They took Jack home that day to be the newest member of their family. Their wish for a friend for Rob came true-Jack soon became his little shadow!
Being around another creature that was unable to speak opened Rob's eyes to a whole new world. Jack helped Rob to overcome his fear of dogs and learn compassion toward vulnerable beings. Rob now walks Jack and plays fetch with him every day. Even though Rob is unable to communicate his thoughts about Jack, the family says that they can see a noticeable difference in his overall attitude and happiness.
Jack and Rob truly demonstrate the social benefits that animals bring to humans. Having Jack as his dog has helped Rob break free from his isolation and teach him responsibility. Rob has learned from Jack how to love all creatures great and small.
———————————————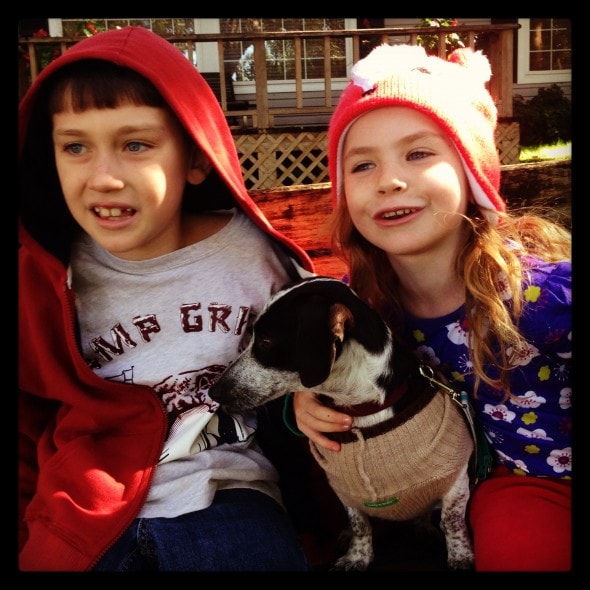 The Central Oklahoma Humane Society is a 501(c)3 organization working closely with the Oklahoma City Welfare Division (OKC Animal Shelter) in order to eliminate the needless euthanasia of healthy, adoptable animals in Oklahoma City.  Since their beginning in 2007, they have found homes for over 15,000 dogs and cats and spayed and neutered over 60,000 pets.
They operate with a network of 250 active foster parents that support their annual adoption goal of 3,000+ adoptions per year. All dogs and cats are evaluated at the Oklahoma City  Animal Shelter by OK Humane staff members and are then placed in a foster home for at least two weeks prior to having their spay/neuter completed at the OK Humane Place Spay + Neuter Clinic. After passing a medical assessment, the animal then goes up for adoption at the OK Humane Adoption Center.
They exist to enrich the communities they serve by promoting the well-being of animals and strive to make the compassionate and respectful treatment of animals a prevalent community value.
To learn about their work in Oklahoma, visit www.okhumane.org