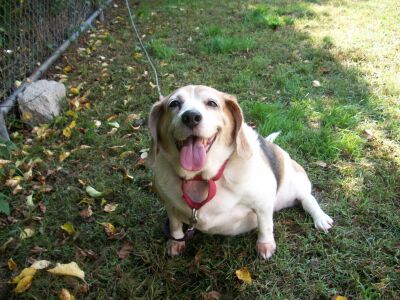 Imagine driving down a busy road and seeing someone throw litter out the window.  Now imagine that what you are actually  seeing is a live dog, being discarded like a bag of trash.  This is what happened to Bridget, a "happy-go-lucky" beagle mix, Route 53 in Weymouth, MA according to Joanne Mainiero, president of the Massachusetts Humane Society.
Fortunately for Bridget, she has a guardian angel in the form of a good Samaritan who witnessed the event and stopped in time to keep her from being hit by a car.  Bridget is now with the Humane Society, but her story doesn't end here.   The perky pup has a growth on her leg which must be removed and some other medical issues that must be addressed before before she can put up for adoption.
The Humane Society needs help to cover the costs of treating Bridget.  "We don't want to give up on her," Mainiero said. "She's a great dog. She really is happy."  As soon as her treatment is complete, she will be fostered until she is ready to be adopted to her forever home.  Bridget was given a remarkable second chance when she was saved by her good Samaritan and is a big step closer to the life she deserves with a loving family.
If you would like to help with Bridget's expenses, you can make checks out to Massachusetts Humane Society with "Bridget" in the memo line, and mail them to PO Box 890127, East Weymouth, MA 02189.  For more information about donating or to volunteer to foster Bridget, call 781-335-1300 or send email to [email protected]