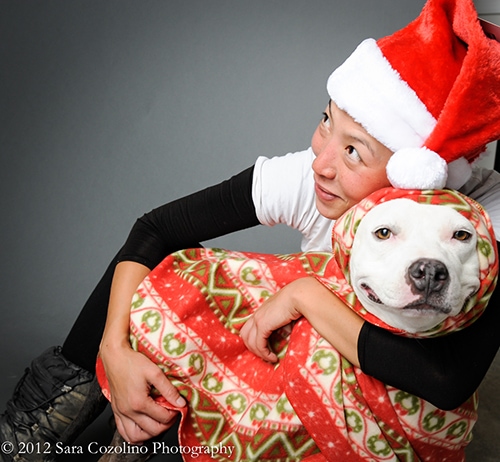 Angels come in many forms. Some live with us for years as constant, treasured companions while others are only in our lives for brief but magical periods of time. One such angel came in the form of a pit bull named Sweetie, whose story is beautifully portrayed in the Unexpected Pit Bull 2014 Calendar.
Sweetie was lovingly adopted by her amazing foster family with the knowledge that her congenital renal dysplasia would mean a shorter than
average life span. Even though the odds were stacked against her, Sweetie thrived in her new home and made the most of her time.
She brought joy and laughter to her new family and they in turn showered her with love and devotion, knowing that their treasured family member was living on borrowed time.
As it became evident that Sweetie's illness was progressing, a group from Angel City Pit Bulls took Sweetie and her a few other foster dogs on a hike to a mystical tree where people go to make wishes. Sweetie's family wished only one thing: that in her remaining days, Sweetie would not feel any pain or discomfort and that she would give them a sign when it was time to make her journey to the Rainbow Bridge.
Sweetie passed away on New Year's Day, surrounded by her friends-just nine and a half weeks after being adopted. In those nine and a half weeks, Sweetie changed the lives of her "forever" family and impacted many hearts.
——————–
The Unexpected Pit Bull fully supports the mission of rescue, adoption and fostering. Sweetie is one of many inspiring and heartfelt stories featured in the 2014 calendar celebrating pit bull dogs as exceptional friends and companions.
The goal of the Unexpected Pit Bull is to create, market and sell merchandise primarily to raise awareness for these dogs. They then donate 100% of the profits to pit bull rescue, education and advocacy groups who in turn directly assist dogs like Sweetie.
This holiday season, you can do your part for your four-legged friends by purchasing TUPB products: http://shop.theunexpectedpitbull.com
These are gifts you can can feel good about and they keep on giving long after the Holidays are over. They not only raise money for animals with 100% of the net proceeds being donated to charity but they help make great strides towards the positive image and awareness of pit bulls by sharing true stories and pictures celebrating these loving animals.
Enter the exclusive coupon code 'LWD10' in the checkout page to receive 10% off your total purchase price. http://shop.theunexpectedpitbull.com/