She may be tiny, but an adopted pug named Pei Pei has had a tremendous impact on the life of her owner, who says he would probably be homebound without her.
Not only can she sense her owner's mood changes: Pei Pei is also trained to call emergency personnel when he's in danger, a skill that could ultimately save his life.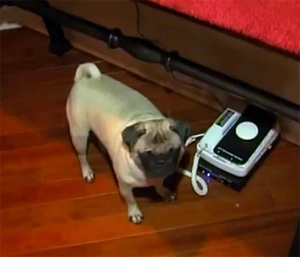 "Go get help!" James Taylor shouts to the  11-pound pug. Pei Pei runs to a specially equipped phone on the floor and presses both paws on a large, circular button, dialing 9-1-1 and calling for assistance.
A retired Army police officer, Taylor, Pei Pei's owner, says she has been a saving grace. Suffering from post traumatic stress disorder and severe hearing loss, the Vero Beach, FL. resident says he won't leave home without his four-legged supporter.
"Without her, I couldn't imagine my life. I'd probably be home-bound a lot because of what I suffer severely. I know if I have any kind of problems, she's going to help me right through it," said Taylor. "If someone knocks on the front door, rings it, wherever I'm at, she'll find me in the house and then tap me, and I follow her," he said.
It's not uncommon for victims of PTSD to be overcome by panic, and when that happens, Taylor says Pei Pei protects him by creating a buffer zone, giving him space to help calm his nerves.
"If I'm out, like in Walmart or somewhere, I give her a 'go out' command, and she'll actually circle around me to keep the people three and four feet away from me," Taylor said proudly.
Taylor adopted Pei Pei from Halo Rescue. Vero Beach-based nonprofit Dogs for Life has assisted him with training her over a two-year period that Taylor says has been nothing short of life-changing.
"She just learns something every single day, and that's what Dogs for Life has taught us; how to use her and live a happy, normal life."