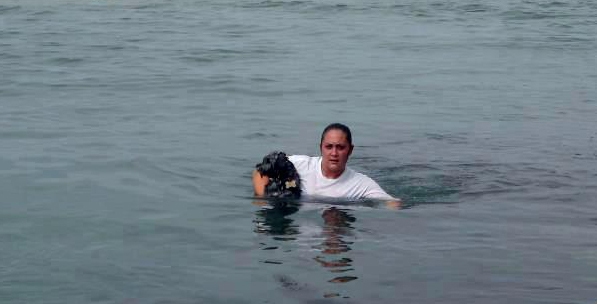 When San Diego police struggled to capture a wayward stray, they decided to call in the experts. A black and gray puppy was scrambling across a jetty near Hospitality Point when Animal Control Officers Melissa Prettyman and Jennifer Jordan arrived.
Their timing was perfect: shortly after their arrival the puppy jumped into the ocean. When the outgoing tide began to sweep 'Aurora' out to sea, a surfer tried to pull her onto his board, but the frightened dog resisted and tried to bite him.
Officer Prettyman had seen enough: knowing that time was running short, she jumped off the jetty and swam after the pup. Aurora lashed out at her, but Prettyman was able to get a grip on the terrified canine and pull her safely to shore. Prettyman did her best to dry off quickly before rushing off to answer another distress call.
Shortly thereafter Aurora was being held in the County shelter at Gaines Street when her owners were located. The mischievous pup had been missing for three days, and her family shed tears of joy when they learned that she was safe.
They expressed tremendous gratitude for her return, and were specifically thankful for Prettyman's selflessness in going the extra mile to save their dog. When asked about the rescue Prettyman was humble – and said it's just part of the job.
See Aurora's reunion with her family in the following video.