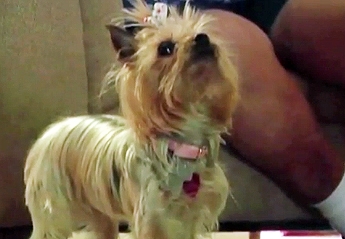 A Texas couple is elated to have their dog back seven years after it was stolen from their yard.
Gloria and Lewis Pena say their dog Macy May lived with until she was one when both she and her brother were dognapped.
After the passage of much time, the family mourned and accepted the loss of their dogs, but a recent call from the Amarillo humane society left them shocked: their long-lost puppy had been found.
"Apparently, someone wanted to adopt her and my husband said, 'Let me discuss this with my wife,' and I told him, 'What is there to discuss? She's my dog and I want her back,'" Gloria Pena says.
The Humane Society was able to track Macy May back to her owners through a microchip scan. The thrilled family said she clearly remembered her name, family and home.