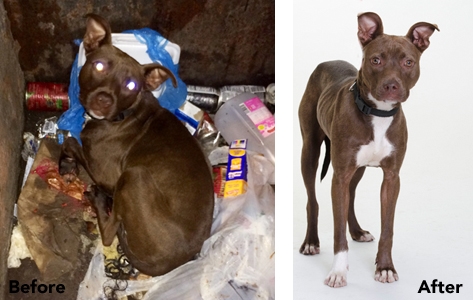 The St. Louis Police were called out to the 4700 block of Hammett Place to respond to reports of a female, chocolate-colored puppy being rescued from a dumpster left to die Thursday night.  The caller heard the dog whimpering as they were passing by.
She's been dubbed "Little Kimmy" by Randy Grim, founder of Stray Rescue.  Little Kimmy is described as having caramel eyes, a chocolate-brown coat, and one white paw.
According to Grim, Kimmy's biggest problem is the fact that she's underweight.  Grim assumes the dog is probably no more than 10-months-old, and when is back to a proper weight for her size, will be weighing in at less than 40 pounds.
"Her eyes had that look of lifelessness, and now they're bright and excited," he said.  "She's happy, she's goofy."
Stray Rescue has put up a reward to anyone who comes forward with information about Kimmy's abandonment leading to an arrest.
"People need to know alternatives to this abuse," said Grim.  "They need to know that when they treat animals this way, they will be prosecuted."
By Grim's estimate, Stray Rescue has been part of the successful prosecution of 40 to 50 cases of animal abuse.  Most recently, it was part of the successful arrest and prosecution in a case of five dogs being tortured in 2012.  He does want to stress that the most important part of any case going to trial and someone facing consequences is educating that person that there are responsible and non-abusive options available when it comes to handling your pets.
"We can't just say, 'Arrest everybody.'  We have to be able to educate.  It's the most important thing," he said.
He said that when these cases reach court, as part of sentencing judges can require people to participate in a responsible pet guardian course at Stray Rescue.
"It can be a good alternative to putting people in jail," he said.  "We're offering the tools and knowledge on how to take care of a pet."
Grim and his organization have gone into areas that are deemed as high-risk for abuse and offered free medical care, including spaying and neutering services.  The last time the services were offered, over 600 people showed up with their pets, and Grim says he has seen attitudes in the St. Louis area shifting to one of anti-abuse advocacy.
"There really aren't any vets in north St. Louis," he said.  "We're providing a service dogs and owners wouldn't normally have.  It's breaking a cycle.  This is about treating each other humanely.  If you can't treat a dog humanely, how are you going to treat humans that way?"
Little Kimmy is available for adoption at Stray Rescue. For more information on her, or to provide information on Little Kimmy contact 314-771-6121 ext. 255.