On June 5, 2014, a concerned St. Louis, Mo., citizen contacted police and informed them of an abandoned dog in a garbage dumpster on the 4700 block of Hammett Place. Officers were dispatched to the location and they found a scared and malnourished female, terrier mix puppy, cowering  inside the garbage bin.
The dog was pulled from the container and taken to Stray Rescue where she is being cared for and nursed back to health. She was named Little Kimmy.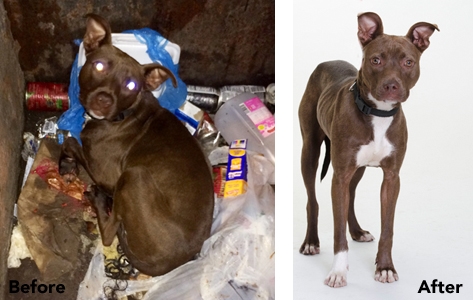 Stray Rescue founder Randy Grim told STL Today that the dog's only health issue so far is her malnourished state. It s believed that Little Kimmy is not older than ten months, and once healthy, she won't weigh more than 40 lbs.
Authorities have no leads about the person(s) responsible for the abuse. However, anyone with information regarding the dog's abandonment is encouraged to call Stray Rescue's abuse hotline at 314-771-6121, ext. 255. A reward is being offered for information that leads to an arrest and conviction.
"People need to know alternatives to this abuse," said Grim.  "They need to know that when they treat animals this way, they will be prosecuted."
Kimmy is available for fostering or adoption. For more information on her, contact Stray Rescue.