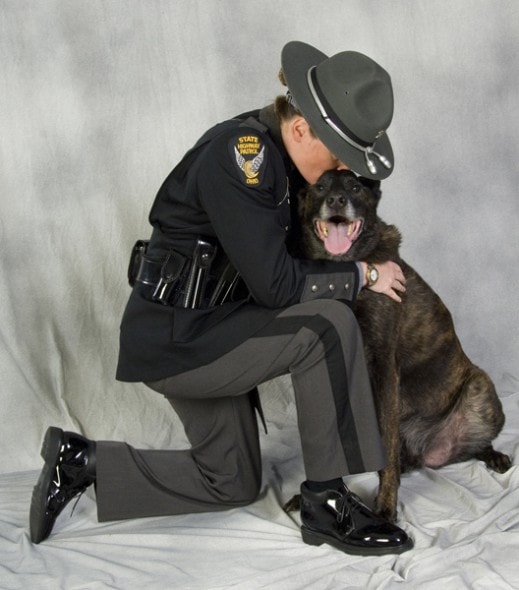 Ringo was an Ohio State Highway Patrol Narcotics K9 Trooper who lost his battle with cancer on May 28, 2010. In his honor, the Retired Police K9 Assistance Fund (a.k.a Ringo's Legacy) was created and today, the foundation provides monetary assistance to retired law enforcement K9s for critical medical care no longer covered by local, state or federal authorities.
Once the K9 officers retire they no longer qualify for medical assistance, and while they live their last years surrounded by loved ones, they suffer in pain. Many of the families caring for the retired dogs cannot afford to cover their medical needs. Ringo's Legacy was created so that these heroes can get the medical help they deserve after they leave the force.
In life, K9 Ringo was awarded a Special Citation for Meritorious Service by the American Police Hall of Fame and he also received an award for Loyal & Faithful Service from the Girl Scouts of America. Upon his retirement in May 2009, K9 Ringo was credited with seizing a total street value of over $53.6 million in contraband.
Ringo's Legacy depends on the generosity of the public. Donations help cover medical costs of those retired K9 troopers. If you want to make a donation to help our retired hero dogs, you can do so now. One hundred percent of your donation will go to cover K9 medical.
Learn more about Ringo's Legacy by visiting their Facebook page.