On September 21, 2014, a one-year-old terrier-pit bull mix was found injured in a New Orleans backyard. The dog was found with an arrow lodged in his body and the pet miraculously survived.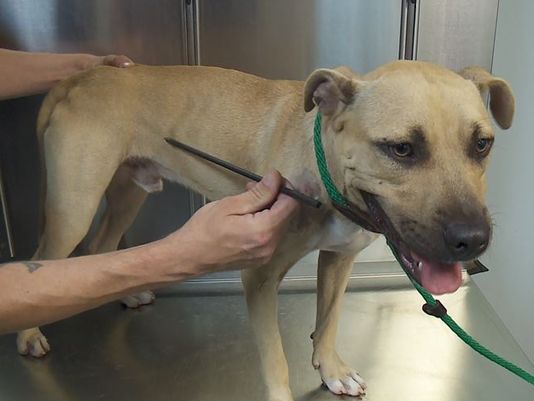 The dog, dubbed Robin Hood, walked in the backyard and rested under a tree, that's where the homeowner spotted the injured pet and called authorities. Officer Eric Durcinka arrived at the location, coaxed the dog to walk towards him, and transported the dog to Westbank Pet Emergency Clinic.
At the clinic, veterinarians learned the dog had 11 inches of the arrow lodged inside his body. No major organs were hit thanks to the arrow getting deflected towards the pet's rib cage after in hit the dog's shoulder bone.
LASCPA believes the dog was shot as he approached the shooter. "[The dog was] likely wagging his tail on the way," said LASCPA.
The arrow was surgically removed and Robin Hood is recovering from the surgery. So far no one has come forward to claim the pet. When the dog was found he was wearing a blue collar, with rabies tag No. 543241, unfortunately he did not have an implanted microchip.
A reward of $2,000 is being offered to anyone with information regarding this animal abuse case. Please call SPCA at 504.368.5191, extension 100, or email [email protected].