Two strays from the Greek island of Zakynthos have been rescued and named Romeo and Juliet, after the unusual pair spent three days together waiting for someone to come help them.
Romeo, a four-year-old setter cross, was shot 38 times with a lead pellet gun and abandoned in a ditch. His body was submerged in water and only his head was visible. Juliet, a two-year-old pointer cross, found her Romeo agonizing in the ditch and spent three days next to him keeping him company and trying to get rescued.
Juliet would bark continuously trying to get someone's attention, and at last, three days after finding her true love close to death, a walker found the dogs, rescued them, and took them to Greek vets.
Romeo's story went viral on Facebook and thanks to the power of social media Romeo and Juliet were moved to Holbrook Animal Rescue in Horsham, West Sussex. At first rescuers were not planning on rescuing Juliet, but after witnessing the strong bond the two of them have, there was no way they were leaving Juliet behind.
Romeo was placed on strong medication and after ten days of critical care, his condition improved.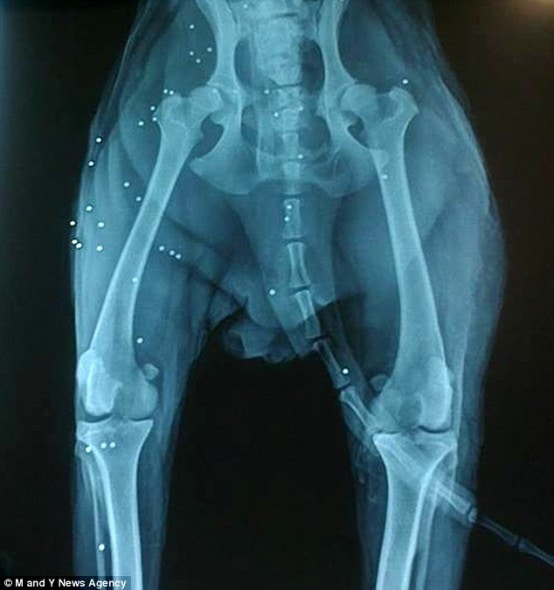 It is believed that the dogs knew each other prior to Romeo's abuse. Rescuers say that it is unlike the strong bond these two dogs have formed during the three days Juliet tried to save Romeo's life.
"I think they were friends before the accident. It is very rare for two dogs who don't know each other to be so inseparable. I think they must have lived together," Laura Santini, of Holbrook Animal Rescue told the Daily Mail.
Now that Romeo is out of the woods, he is ready for his happily ever after next to his Juliet. Holbrook Animal Rescue is looking for a forever home that will take in both dogs.