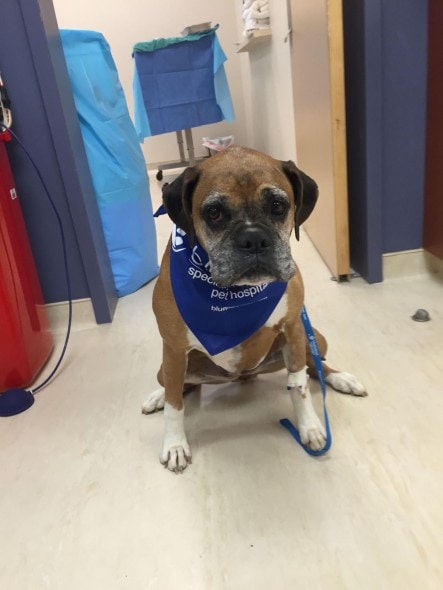 Roxie must seriously have an iron gut!  Last year, she had to be taken into the animal hospital after eating an entire pack of cigarettes, and then there was the time that she decided to tear up and eat a water snake that had already bitten her several times.  This time, she's really pulled a good one.  She somehow consumed SEVEN, WHOLE corn cobs!
She luckily threw up six out of the seven corn cobs she ate.  However, the final one was just too far in, and became lodged in her intestine.  Her human, Dakota Hudson, knew what to do, and immediately took her to their local emergency animal hospital in Sandbridge, near Virginia Beach.
According to Hudson, "They told us they were going to do X-rays and blood work.  When they called us back they said the corn cob was as clear as day on the X-ray and that they would have to do surgery to get it out."
That's when the hospital told Hudson and her family how much the surgery was going to cost.  The price tag was $5,000!  This was just beyond the budget of Hudson's family, and they didn't really have any other family members to turn to.  Sadly, the Hudson family prepared to say goodbye to Roxie.
"I started bawling," said Hudson.  "It got to the point where I was considering euthanizing her because I didn't want her to be in pain and suffering."
Hudson was about to sign the authorization to euthanize Roxie, but that's when Veterinarian Beth Tynan told the Hudson family that she wouldn't allow them to sign to paperwork.  She would do the surgery for Roxie free of charge.  Besides, Roxie was otherwise a healthy dog.
Frankie's Friends, a national pet charity that aims to raise money for animals in situations like Roxie's has come up with $4,800 in donations to help pay for her surgery.  They say that they were able to get so much money together so quickly, thanks to a massive social media campaign.
As of Wednesday morning, Roxie was recovering nicely, and doctors and surgeons are confident that she'll be making a full recovery.  She's expected to be able to return home tomorrow, as medical staff just wants to make extra sure that there's no lasting damage done to the area the cob became stuck in.
"The surgeon fell in love with her and said, 'We can't let a dog like her go.  We have to do something,'" Hudson said.  "That meant the world to me."