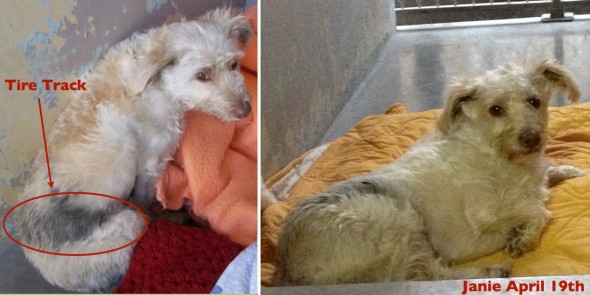 Injured, abandoned and aggressive, Janie's odds of survival were slim.  But thanks to caring and dedicated shelter staff and animal rescue workers, Janie has a chance at a normal and happy life.
Janie is a two-year-old terrier mix that was brought to an animal shelter in the Los Angeles area in mid-April.  She had been abandoned by her owner, and then run over by a car.  Annie Hart of the Bill Foundation, an organization that rehabilitates and adopts out abandoned and injured street and shelter dogs, said that both Janie's back and spirit had been broken by her ordeal.
"In so much pain, and in a strange place, she was too scared to let anyone touch her. She quickly was labeled aggressive and it was highly unlikely — less than a 10 percent chance — that she would get out of the shelter alive," Hart said.

But people like Hart and animal rescue group Hope for Paws founder Eldad Hagar had faith in her ability to recover, be trained and to find a home.
"Luckily for Janie, the fracture is of the seventh lumbar vertebra, which can be fixed with surgery. Had it been much higher, she would have been paralyzed for life,"Hart explained, noting that Janie had been "so fearful of the world" that it was difficult for medical staff to even get near enough to the little dog to perform surgery.
"The first time I went to see Janie after her surgery, she was painfully scared and acting aggressively. I sat with her for quite some time, but I couldn't get near her. Even her doctors were having a difficult time medicating her and checking her vitals," said Hart. "A few days later, with her medical team's approval, I asked Eldad [Hagar] to visit her with me and see if he could get through to her."
In the weeks following her surgery, Janie began making a transformation.  Perhaps her aggression was due to the pain and trauma of her circumstances, because today she is a happy little girl.
"I became a part of dog rescue because I firmly believe in the power of second chances, and being a part of Janie's story reinforces this tenfold," said Hart. "Moments like this help fuel my soul to keep rescuing and sharing stories like Janie's, with the hope that just one person will see it and be moved by it. Maybe when they see a frightened dog in the shelter they will think twice and give them the second chance they so richly deserve."
Janie is currently being fostered, but is looking for her furever home.