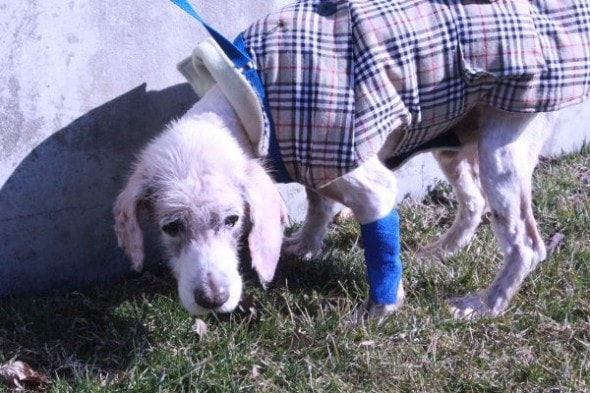 A few days ago you heard about a dog named Sammy that was so severely abused and neglected that for the first week he  was in hospital he couldn't even stand up. Well, Sammy is a fighter and he is slowly making progress, now able to stand and walk, and is eating better as well.
Sammy was dropped off at the Associated Humane Society in New Jersey by Keith Morgan who claimed to have found him at the side of the road.  Morgan was later discovered to be Sammy's owner and he and his wife now face charges of animal cruelty.  Sammy was in plastic bag, covered in his own feces, his skin burned from lying in his urine, with many infections, and starving.
Now Sammy is recovering in the hands of the wonderful staff at Red Bank Veterinary Hospital, his wounds healing as he gingerly took his first steps earlier this week.  The hospital is not charging for any of the 13 year old cocker spaniel's care as they work to bring him back to health.  They have also started a fund to help pay for Sammy's future care and have created a special blog for Sammy with daily updates.
Anyone who wants to contribute can send checks to: Red Bank Veterinary Hospital, 197 Hance Avenue, Tinton Falls, NJ 07724. Be sure to note that your donation is for the Morgan/Samurai Fund.  The staff at the hospital say the hardest part of this will be deciding who gets to adopt Sammy when he is better as there have been many inquiries already.