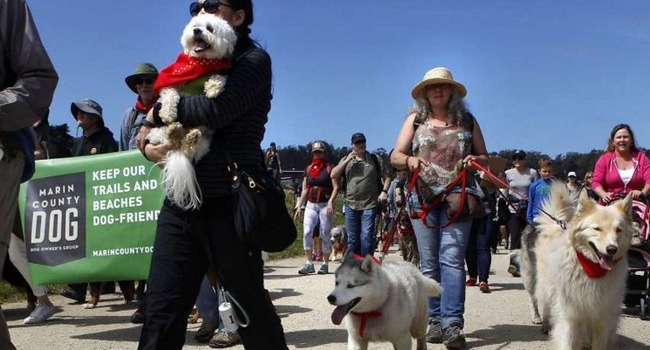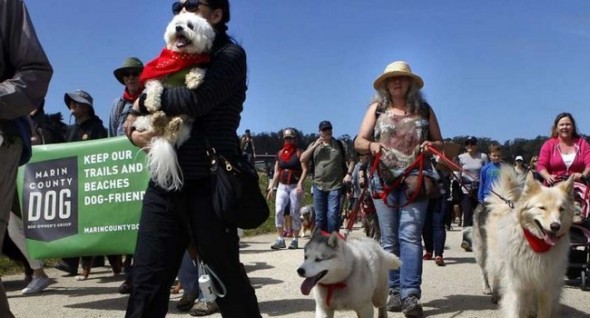 San Francisco's Presidio was the scene of a protest Friday, as hundreds of dogs and their irate owners came out en force for the Mighty Mutt March – giving voice to a movement against the National Parks Service's proposed regulations limiting access for dogs in the Golden Gate National Recreation Area.
The plan would limit off-leash activity by up to 90 percent and simple, on-leash presence by up to 45 percent.
"We have had conflict with the National Park Service for over 10 years to simply be able to walk our dogs," Andrea Buffa, an event organizer and member of Save Our Recreation, told the SF Gate. "It seems no matter what we do, the National Park Service won't listen to us. This is our way of showing how many people its plan would really impact."
The NPS contends the restrictive regulations would, among other things, help protect and preserve the park system's natural resources. If imposed, the new plan would limit off-leash walking to Crissy Field, Ocean Beach, Rodeo Beach and Fort Mason. The practice would be completely prohibited in San Mateo County. Marin's off-leash areas would be reduced dramatically. Leashed pets, too, would face tighter regulation.
City Supervisor Scott Wiener says that officials throughout the areas that would be affected are against new regulations. Two of the three resolutions he wrote in opposition have been passed by the board.
It "is going to affect an enormous number of residents," he told the SF Gate at the march. "It's going to push dogs into already overcrowded city parks."
Despite expectations that the plan will be approved in May, Wiener says they're not giving up.
"The city won't back down."