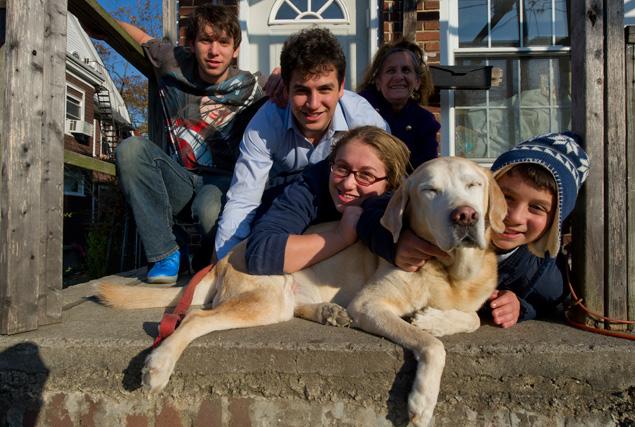 Sandy, an 11-year-old Labrador Retriever, went missing during the storm of the same name. After nearly two weeks of searching Sandy is back at home with the Baron family.
The storm's strong winds blew open the door to the Baron's Queens, New York home and Sandy slipped out. "Sometimes he gets out, but he always comes back and I didn't think there was a reason to worry," said Harvey Baron. This time Sandy didn't come back. Baron checked with the cops and the vet and neighbors helped search the area for Sandy, but no one could find him. The search was limited due to the devastation of the storm.
Sandy was finally found in the lobby of a hospital by a police officer who brought him to the Brooklyn Animal Care & Control Shelter. Sandy had a microchip, but the lack of electricity, phone service and mail delivery meant the Barons never received word. Thankfully on Friday Phyllis Taiano, who runs Four Paws Sake rescue, decided to drive to the address. Taiano knocked on the Baron's door to deliver the good news. "Out comes a gentleman and I announced who I was and asked if he had lost his dog; his eyes lit up and he said, 'yes, where is he?' And he began to cry," said Taiano.
The Barons wanted to fetch Sandy the next morning, but were unable to since they can't drive on the Sabbath. So, first thing Sunday morning they drove to the shelter to be reunited with Sandy. It was a happy reunion for the family. "He's part of our family, and not knowing where he was – it was much more traumatic than I'm letting on," said Baron.
There are still dozens of other dogs displaced from the storm that are on identification hold at ACC shelters. ACC is waiving return-to-owner fees and extending the period of time animals are held before becoming at risk to be euthanized. Owners are encouraged to visit shelters to look for their animals. Owners can also go to www.nyacc.org to search the database and file a lost report.
Taiano believes more is needed in order to save these animals in time. "I've offered to take the information of every single one of those animals and go out and find their owners myself," she said. "I'm waiting for the go ahead."