Editor's note: On Friday, we shared a photo of a dog languishing in a high kill shelter. She was stressed and losing weight, and was not a likely candidate for adoption. A request to share her story was posted Friday afternoon. By that evening, she was saved. Beyond Barking – Animal Communication published this note Friday night. Thank you for saving another dog.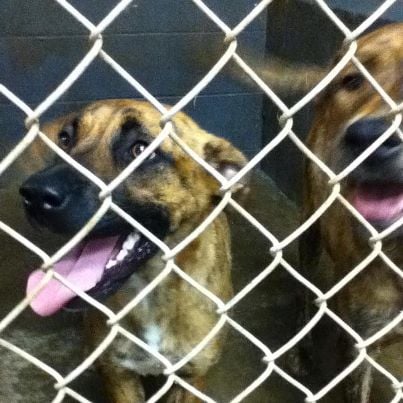 Honestly, I have no idea how people do it. As people say often about Animal Communication work and having no idea how it's done, I feel the same about rescue work. I have the last two days attempting to save a dogs life. Why? Am I crazy? Maybe. She pulled at my heart strings and well, we agreed there is room for one more in the house.
I see literally 1000's of dogs each day and while I donate, here and there to help save them from being PTS (put to sleep) some get out and some don't. There are groups such as Petconnect.us and Lady's Hope who I have literally been on the phone with about a dog only to find it was rescued while we were talking. This is ALWAYS great news, of course!
I follow the rescue groups of those tagged in this post and have NO idea how this gal showed up in my feed as I don't follow any East Coast groups at all. Who's guilty as charged? 😉
There was no interest for Asia and she was out of time. After all she's in the Appalachian Mountains of West Virginia, population, rural. She's a stray, not spayed, terrified and losing weight from the stress. She's a pretty mutt (they all are), but there are no people out there adopting. Hell, the shelter isn't even open on the weekends for adoptions.
There are two kind men who do all the shelter work arriving in the morning and then again at night. There are sweet volunteers running their Facebook page and helping me with transport as well as pulling her on the verbal promise that I will reimburse them and my Dad WILL meet them for a drop off. I mean, really, how do these animals have a fighting chance. During my time volunteering, weekends were our highest adoption times.
The gentleman on the phone with his deep West Virginny accent was elated that she will be saved. I betcha he's the same guy that would have put her down to make space Sunday. UGH. If I could save them all I would and so would you or you wouldn't be reading this note.
So here I am, questioning myself. All those questions: Why her? Why 3,000 miles away? What if she is not house-broken? What if she does not get along with my pack? What if she is food aggressive? What if she doesn't make here safely? Why didn't I think at least twice before trying to rescue across the miles? And, the list goes on and on.
I've decided to label it all "thinking" and just go with my heart. I even set up a chip-in just in case people feel like they want to help save this life, which is exactly what the money is for. I suspect the dollars will be adding up fast between transport, vetting, quarantine, and more transport. I plan to donate any extra back to the shelter and for those who know me, I suspect that will be a good portion of it. I work for a reason, to give back. Back to the animals and the people helping them. It is my purpose!
Don't you think Virginia is a better name? We can call her Ginny. West Virginny Appalachian Momma 😉
Follow Asia on her journey home here.