Would you eat your companion pet? Would you let lost or stolen dogs become part of the meat and fur industry? Join other animal lovers and activists on May 18, 2013, to put an end to animal cruelty. Say NO TO DOG MEAT.
NoToDogMeat is an organization that works defending innocent cats and dogs that are inhumanly treated, for the sole purpose of consumption and capitalism. The group is the fastest growing global movement made up of loving individuals, united in their common interest. They want to convince governments world-wide that the heinous practice of torturing dogs and cats to then eating them, has to end.
"Dogs and cats are skinned alive, boiled alive, beaten, electrocuted, stabbed in the neck…you name it, they get it. All for meat or fur," said Amanda Shewan member of NoToDogMeat.
In South Korea over 2.5 million dogs are eaten annually, while China consumes close to 5 million dogs. The world has never been as technologically advanced as it is today, and with the help of globalization, all humans can aspire to live under similar life standards. There is no excuse for any country to practice barbaric methods, putting animals and humans alike in danger.
"[The dog meat trade] is a 100% profit industry," said Shewan. "They pay no tax on these animals. What's worse, it is totally unregulated. You could be eating a diseased dog – most will be unfortunately – as they live on the streets."
Shewan and other members of NoToDogMeat want the world to know of the brutal conditions innocent animals endure in China. The organization is asking all animal supporters to do something to help. Just because you don't see or don't know of the problem, doesn't mean it is not there. Humans need to be the voices for all animals. Dogs and cats can't speak or defend themselves. Animal suffering needs to come to an end.
On Sat. May 18, 2013, NoToDogMeat is releasing a movie called BOKDAYS at the Cannes Film Festival. The film will show attendees what China does to animals behind closed doors.
"They do not care if a dogs cries or screams, or if a cat is trying to escape a boiling pot of water," said Shewan. "Its all ok to them. Well, it certainly is not and we do not want the children in China growing up to be this. The Chinese believe the more petrified the dog is, the better the meat tastes."
Founder of the organization, Julia De Cadenet, has started a petition in the United Kingdom. She hopes to collect enough signatures to ensure that other governments get involved and put an end to this inhumane practice. The petition has collected 6,000 signatures and De Cadenet will be taking the petition to the House of Commons in June. However, in order for the government to get involved, 100,000 signatures are needed.
Right now the UK petition can only be signed by UK residents. Those interested in electronically signing the petition need to provide a verifiable email address. An American petition is in the works for American supporters.
"A lot of people don't confirm the signature via email," said Shewan. "If they don't confirm, their name won't be placed on [the petition].
Most of the dogs in China used for the trade industry were once pets. They are usually stolen from homes and sent to the slaughter house.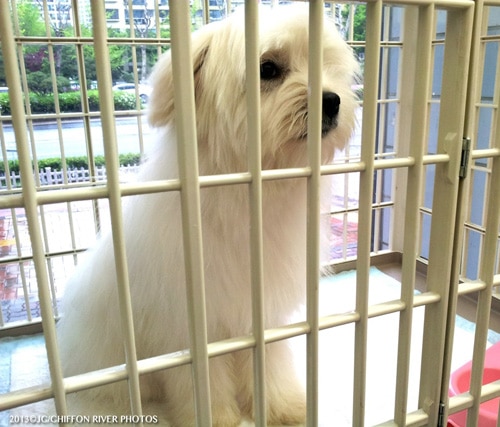 "Dogs are stolen from homes, off the street and crammed in tiny cages." said Shewan. "Some don't even make it to the slaughter house. Some give birth on these trucks. They travel for days with no food or water to be completely tortured. The dogs are killed in front of each other so every single emotion pricks them," she continued.
NoToDogMeat has been fighting the inhumane treatment of animals all along. The organization sells shirts and other items on their site, using all profits towards buying animals from their abusers. The organizations then re-homes the animals, offering them a better life.
On May 18, 2013, there will be organized protests across the world. America, Australia, Brazil, Canada and Romania have organized peaceful events to show their support against the inhuman treatment of animals in China. To learn more about the world-wide organized events go to https://www.facebook.com/JointheGlobalMovementToEndtheDogandCatMeatTrade/events.
Next month, China has organized a week long dog slaughtering festival and NoToDogMeat has tried to stop the festival but they have been unsuccessful.
"We must put pressure on [the Chinese]. We have to shame them in order to stop this," said Shewan. "We want the dog and cat meat trade to be non-existent and for this to be illegal. We want harsh punishments for those who sell this meat. We need it to be illegal. Skinning dogs alive should not be a job anywhere on the planet."
Support NoToDogMeat today. Sign the petition, follow them on Facebook, on Twitter, visit their site, donate or support their fundraises.
SAY NO TO DOG MEAT TODAY!