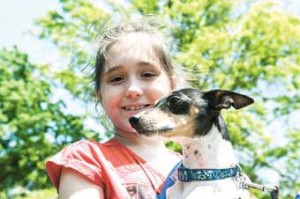 Carthage, Missouri — One young woman turned her disappointment into a positive for local dogs in southwest Missouri.  Eight-year-old Olivia Pierce had hoped to raise $300 for the Carthage Humane Society on Saturday, May 12th with Mutt-Minister. But local support put her way over that amount. She actually raised $1210 for the  first time fundraiser.
This all occurred because Olivia was upset that her rat terrier, Princeton, couldn't enter Westminster. She thought that was unfair so she found a way to help dogs in her local shelter. She decided to have a pet show in Carthage Central Park. She and her mother, Keegan Pierce, hoped a few people wuld turn out. What they didn't expect was the great response they got from individuals and corporate sponsors.
By the way, this isn't the first time the second grader has overcome odds to be around dogs. Olivia's allergies to dogs are so fierce she has been admitted to Children's Mercy Hospital in Kansas City. Not deterred by what would stop many others, Olivia took her medicine and built up her immunity so she could have a companion dog.
Olivia organized the event, designed signs and even found experienced competition judges.
The 30 dogs were categorized according to size then proceeded to take a lap around the ring, First-time dog show participant and Joplin, Missouri resident Lauren Weiss and her boxer-schnauzer mix, Callie took the title.
The Carthage Humane Society was quoted as saying this was the biggest donation they had ever gotten from a fundraiser that they had not organized.
You can save the date for next year. Olivia and her mother had so much fun with the event they plan on doing it again. That's wonderful news for all the dogs and cats helped by the Carthage Humane Society.
What a great idea and young woman! This is a young woman to watch.  Her mother has said Olivia doesn't just help dogs. If she has this much impact at 8 I can't wait to see what she does at 18.