Last month, a three-year-old pit bull mix from Tampa, Fla., was found tethered to a fence on a basketball court. Since no one claimed ownership of the dog and his true owners were nowhere to be found, he was picked up by Hillsborough County Animal Services. At animal control, the dog became depressed and scared, and hid under his bed. Chances of him getting adopted were slim until his photograph went viral.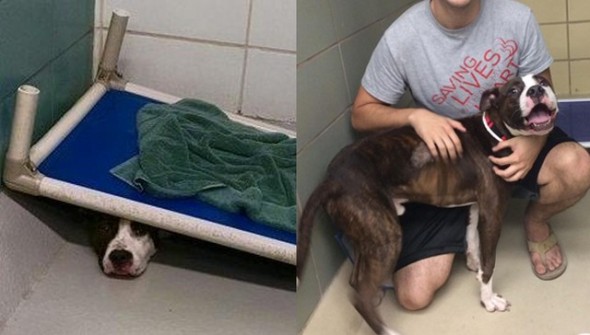 The dog, named Larry Bird, was a staff favorite. He was sweet and gentle, but in the shelter he shut down and took cover under his bed. The dog seemed to trust no one and because of this he spent a weeks being overlooked by all potential adopters.
The scared dog's luck changed when a picture of him hiding under the bed went viral on social media. Immediately, hundreds of people started calling and emailing Hillsborough County Animal Services inquiring about Larry Bird.
On April 8th, 2015, after going through all adoption applications, the shelter made a decision and placed Larry with his perfect match. On that day, Larry was no longer the unwanted abandoned pet, instead he became THE DOG many solicited and hoped to take home.
Congratulations on finding your forever home Larry!