When Canadian school teacher Spencer Sekyer happened upon a litter of puppies and their neglected stray mother on a trip to Afghanistan, he was so taken with them that he set the wheels in motion for a rescue mission that would span 18 months and more than 6,000 miles.
Sekyer frequently spends summers abroad, and found the dogs sleeping in a gutter near Kabul. He quickly befriended their mother in an attempt to get a closer look at her litter, and after spending only a few minutes with them, he said he knew he could not leave them behind.
"I think you'd have to have a heart of stone just to walk by," he said in a recent interview with CTV. Sekyer said that his decision to help the defenseless dogs was just "the right thing to do."
Before departing Afghanistan, he located a shelter to vaccinate and care for them while he sorted out logistics. From that point, it was simply a matter of time and money.
Sekyer and his wife climbed Mount Kilimanjaro in order to raise funds for the overseas flight charges, and their efforts were applauded and shared by admirers just enough to get them noticed: when Air Canada learned of Sekyer's plan to bring the dogs home with him, it waived the $28,000 cost of flying the dogs from Kabul to Calgary.
More than eighteen months after he first laid eyes on them, Sekyer was reunited with the pups when they landed at Calgary International Airport on Friday night.
After a quick trip through customs, crate doors were opened for an emotional reunion: the dogs whimpered and wagged at the sight of their benefactor, who said this moment made the enormous effort to save them more than worth it. This leg of the journey will not be their last: next, the dogs will be vetted, spayed and microchipped. Then they move on to their new homes.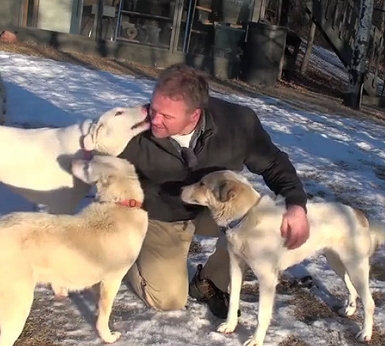 In time, Sekyer will have the opportunity to see each of them in a new, loving, secure home – a drastic departure from the gutter he found them in on that fateful day in 2010. And if he had it to do over again, Sekyer said he wouldn't change a thing.
"It's been a crazy ride but it's all worth it," he said.
A video from last summer, filmed just after Sekyer learned that the dogs had been cleared for the trip.