On Saturday, Florida Highway Patrol troopers say that a drunk driver fleeing the scene of a prior accident struck and killed a 53-year-old Sarasota woman while she was walking her dog.
The driver of the vehicle, Blake C. Talman, 22, lost control of his Nissan Altima and hit Donna L. Chen and her dog Barney on a city sidewalk. Chen was killed in the accident, and Talman is facing DUI manslaughter charges while being held on $121,000 bail.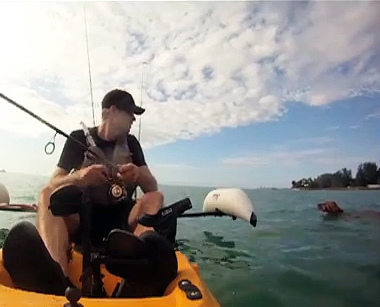 The accident took place on State Road, and Barney was so terrified that he fled the scene, made his way to the beach, and swam for the horizon.
Most would expect that to be the tragic end to an already sorrowful tale, but fate had other plans for Barney. A local fisherman in his kayak happened upon the waterlogged dog just as he was pulling far away from shore – likely too far to make it back.
The videographer's account:
The accident scene was about a mile from where I found Barney swimming. Our guess is that he was so freaked out and traumatized that he just wanted to get as far away from there as possible. And when he ran out of land, he took to the water. I feel lucky that I was there fishing, because there was no place for him to go and I don't know if he could have made it much farther. He's banged up, but fine. Our hearts go out to the family who lost their mother.
NOTES:
* I usually keep a camera running when I fish, in case I catch the big one. It does happen, occasionally (see other videos in my profile if you are interested)
* Yes, Barney is back with his family. I imagine they need him pretty bad right now.
A local TV news report of the accident.