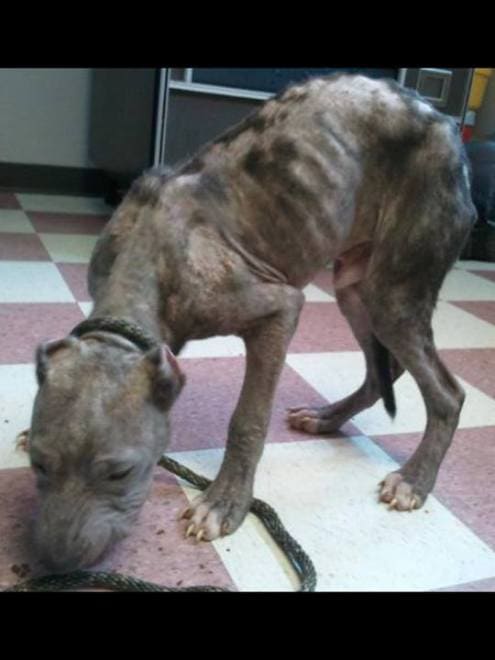 When Scratchy was found by Ann-Marie Johnson he was so sick, skinny and malnourished, that she always had two fears in the back of her mind.  One was just letting Scratchy go beyond the boundaries of the yard, and the other was someone might call an animal rescue shelter on her if they happened to see Scratchy out of the house.
According to Ann-Marie, Scratchy was "emaciated" and lost almost all of his coat to mange.  She also noted that his "ears (were) cut off with scissors."
She said, "Scratchy was in such bad shape, not only was I concerned taking him outside in the cold air with no fur, but the concern was that others may see him and call the shelter on me for abuse."
Someone had been obviously abusing him.  He and his brother were found in a dumpster in a crate wrapped in shrink wrap.  Scratchy made it, but his brother Itchy didn't live for long after they were discovered.
Ann-Marie, whom lives in northern Virginia, was doing some volunteer work with a pit bull rescue.  She wasn't exactly in the market to make an addition to her family at the time, but after learning about Scratchy, she knew she could leave him to wait for someone else.
"After watching numerous appeals for someone to foster Scratchy and help him make it out of the shelter, I knew this boy would not have many offers," Ann-Marie said.  "Knowing how hard it already is for a healthy animal to make it out of the shelter, I knew if I did not step up, Scratchy's chances were going to be slim to none."
The idea at first was simply to foster Scratchy.  It didn't take much time however, and Scratchy became a permanent member of the family.  Scratchy lives full time with Ann-Marie and his fine feathered friend, Mister Peaches.  Mr. Peaches is a cockatoo, and the pair are best buds.
"The best feeling is watching them play together with Mr. Peaches on the floor and Scratchy jumping around and play bowing trying to get my cockatoo to play back," Ann-Marie said.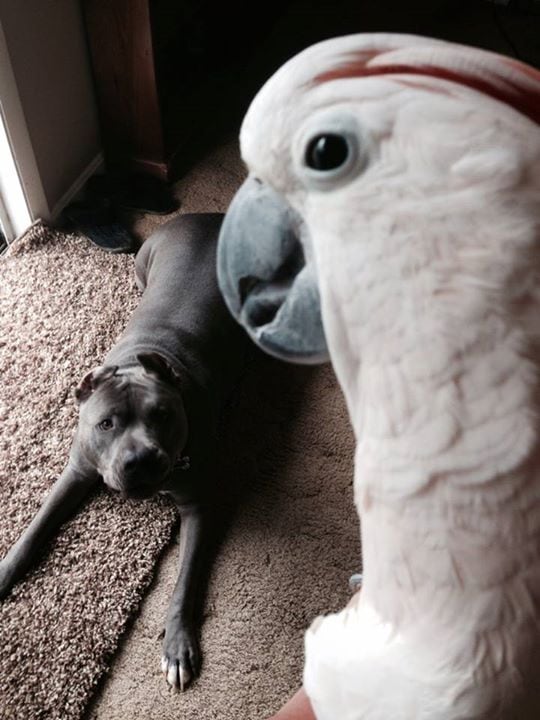 Even though Scratchy had an abusive beginning, he is affectionate toward all.  The local kids even come by often to play and give some love back to Scratchy.  There even was one, younger neighbor girl that had at first said she was too afraid of pit bulls.  Now, she regularly comes by to cook up some hamburgers for Scratchy.
"My life now revolves around Scratchy and I couldn't dream of anything better," said Ann-Marie.