A German shepherd known for bringing comfort to mourners at North Carolina's Forest Lawn Cemetery has been dognapped, and now his owners are desperate to have him returned.  The dognapper has apparently confessed, but will not release Boh's whereabouts.
"He just started going over to the graveyard and hanging out with the guys as they were working on the graves out here and he just kind of became a part," said owner Brad Beal.
He spent so much time at the Lincolnton cemetery, his family joked that he was going to work.
"He would walk the ladies from their cars to the office every morning.  He'd console the families."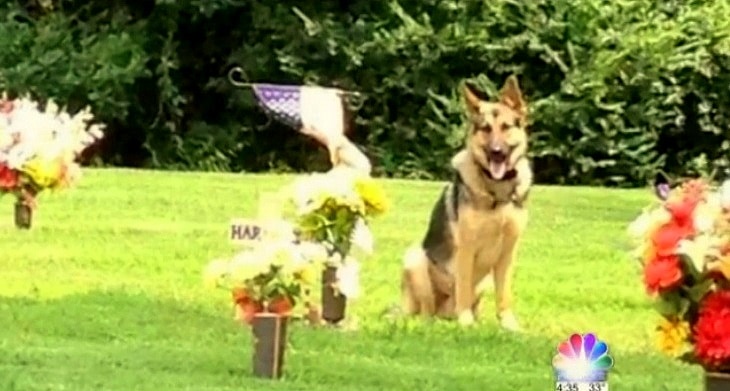 But the last time Boh was seen was on Friday, February 28th, when a cemetery worker saw a woman wearing scrubs put him into her car and drive off.
Brad Beal and Tina Kennedy have been searching by foot and vehicle, and have posted photos and pleas for his safe return on Facebook.  Word of the cherished dog's disappearance went viral in the area, and people whose lives had been touched by Boh flocked to send positive messages.
"I can't tell you how he comforted me when I have been alone over there," shared one commenter.  "I remember him sitting by me… and the next time I do remember him chasing after his tail… I thought that was so cute.  I will say a prayer he is returned."
Boh is known for the tail-chasing: it was his favorite thing to do, and once he'd catch it, he'd walk in circles with it in his mouth.
"It is heart-warming to know that what we knew was special to us, turned out to be maybe even more special to other people," Tina said.
Last night, an update was posted on Tina's Facebook page:
"WE HAVE AN UPDATE…. Lincoln county Sheriff's department has located the person who picked Boh up in the cemetery. She has been positively identified and has confessed, but refuses to pinpoint Boh's location.  We know she has taken him to Greensboro and has given him to someone there… Boh is believed to be in a shelter or a rescue at this time.  If you know anyone in that area please contact them and inform them to be on the lookout.  We thank everyone for their continued support and prayers… your comments of concern and stories about Boh continue to bring a smile to our faces, warmth to our hearts, and add fuel to the fire that drives our determination to bring Boh home.  We are sorry that we couldn't inform you of this yesterday but until she was captured and confessed we couldn't risk word getting out, and giving her a chance to leave the area with Boh.  Our efforts and yours have rattled a few cages, making all this possible.  God has stood beside us every day and blessed us.  He has brought us together as one, united us to a cause, to find an ambassador of his love and affection.  God chooses to manifest his love in many different ways, and our family is thankful he chose us to be the ones with whom his furry ambassador was placed. Boh, you were truly heaven sent.  We miss you dearly… we stand here eagerly awaiting your arrival back home to continue the work God has placed you here to do!"
If anyone has information on where Boh is being kept, please call Brad at 704-740-6659 or Tina at 704-740- 5015.  He was last wearing a thick black nylon collar (no tags – they had just fallen off in the yard).
"We just want our baby home," Tina pled.  "We don't care what happened, how it happened, why it happened.  We just want our baby home."
UPDATE:  Boh has been found in Huntersville and was recently reunited with Tina and Brad.  It's been reported that the thief abandoned him in a parking lot, and he was taken in by kindly women who posted his photo on a local lost dog site.  Brad and Tina immediately went to get him, and Boh lay with his head on Brad the entire car ride home. There is no word yet on whether or not the dognapper will be charged with anything.
"Boh is home and resting in the floor at my feet. Poor baby is worn out," Tina posted.  "He slept half the way home with his head in his daddy's lap, and the other half with his head in mine. We stopped by to see his sisters, Kaylyn and Kristin, and his sweet Kinsley, who he loves beyond measure. She was all smiles and so was he. He couldn't stop kissing them all. First, I want to thank each and every one of you who supported us during this trying time. There were times I didn't think I could get through another day, and Brad also, but your loyalty to us and Boh kept us going. If it hadn't been for every one of you caring, sharing, posting, searching, loving, and praying, this may have had a different ending. We can't thank you enough, and all of you are forever in our hearts."
You can see the reunion updates as they unfold by visiting his Facebook page.