As a senior black mutt, Rocky was considered an unadoptable shelter dog.  But one volunteer who was only meant to walk him fell in love, and gave this badly abused, overlooked dog six years of comfort, love and family before he passed away in her arms.
From Mary-Marsha Riley, a dog-lover and runner up of Miss Tennessee International:
For those of you who do not know Rocky's story…he was one of the original residents of the Sunny Meadows no-kill shelter in Memphis. Thank God it was no-kill, because Rocky, being a black mix of no distinguished breed, was virtually "unadoptable."  Sadly, black dogs are the last to be adopted from shelters. I have no doubt that it was God's plan for Rocky and me to be together.
Despite knowing that my sensitive heart probably couldn't handle it, I was led to volunteer one afternoon at Sunny Meadows to walk some of the dogs. That is where I met my baby. He was so timid, so lethargic…he had clearly given up on the dream of ever having a beautiful life that all dogs deserve. I coaxed him out of his cage that day, walked him, petted him, and talked to him.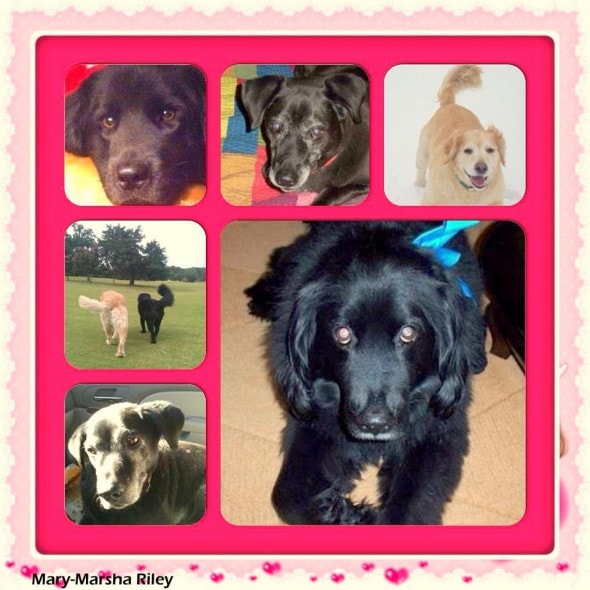 I walked out of the shelter in tears, immediately called David and told him, "I know we already have two dogs, but I just can't leave this dog there." David, being the beautiful-hearted man that he is, went with me that weekend to meet Rocky, and the decision was easy. He would become the 5th Riley.
We saw that day that one of Rocky's paws was bleeding a bit. We didn't think too much about it until the night before we were to bring him home, we received a call from the shelter telling us that Rocky had a terrible infection that had spread to the bones of his leg. They told us they were going to amputate his leg the next day and asked if we wanted to adopt him anyway. Well, yes, of course we still want him, and NO you will not remove his leg. We will have him treated by our vet.
I went and picked up Rocky the next day, and over the course of the next eight months, our wonderful, kind, and big-hearted vet, Karen Bridgman Gant, saved Rocky's leg. Rocky's adjustment into his new life wasn't easy at first. Clearly having been abused by a man in his past and virtually feral and arthritic due to spending the majority of his life in a concrete cage, it took Rocky a while to trust David, me, his brothers Jordan and Drake, and later Jude, who Rocky truly loved.
At first he protected his food with all his might, afraid one of his brothers would try to take it from him. He didn't trust being touched, and even after almost six years, he would rarely let me rub his tummy, thanks to the evil demon who hurt him when he was younger. But gradually, Rocky began to trust – especially me. He loved having his ears rubbed and neck scratched more than anything. And oh, how he loved to eat! He would bark and run in circles when he knew it was breakfast or dinner time.
A couple of years ago, his grandmother, Connie, gave him a dog bed which he loved so much. Although Rocky slept at my feet in the bed every night, he stayed on that bed all day, and the fact that it sits in our living room today without Rocky on it is heart-wrenching.
Rocky was never pain-free thanks to his life before God brought him to us, but we did all we could in the almost six years he was our boy to make his life happy and comfortable and to make sure he knew he was loved. Last night as he laid in my arms, I just kept telling him I loved him, that I was so proud of him, and asked God to bless him and keep him until I could get up there to do it myself.
His heart, body, and soul were damaged before he became a Riley, but he died treasured by his mom. If you took the time to read this, thank you. And, I ask all of you to support your local animal shelters, adopt and encourage others to adopt.  Not just the cute little purebred puppies, but the older dogs who desperately deserve to be loved too. Be an advocate for animals. Encourage our leaders to enact tougher laws against the abuse and neglect of animals.
In honor of Rocky's life, I implore you to do your part to help the helpless animals of the world that cannot protect themselves and desperately and simply, just want to be loved. I loved Rocky with all my heart, and in my heart he will remain, with his brother Jordan, until I can hold them both again in Heaven. God bless all of you and your furry babies.