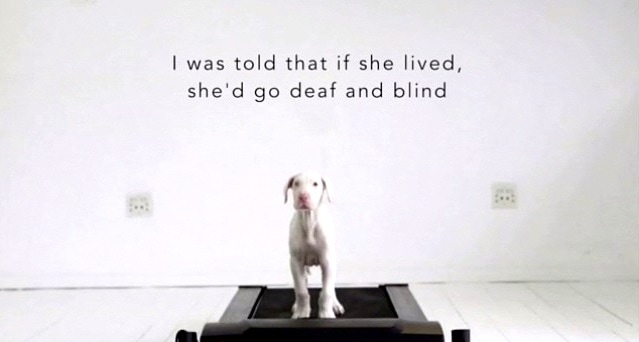 When Dave Meinert rescued his puppy, he was told Pegasus wouldn't live very long, and that she'd grow up blind and deaf.  So he decided to film every day they had together, and the time-lapse video he created is just beautiful.
Pegasus was the result of a backyard breeder.  Her siblings were either deformed or did not survive, so her chances of making it looked grim.
"When I rescued Pegasus, I was told she wouldn't live too long so I set about filming her every day," Meinert said. "This is an uplifting time-lapse filmed over six months about the life of my Great Dane puppy."
"I still don't know how long she is going to live.  But right now is pretty great."
Unfortunately, shortly after creating the video, Meinert became unable to keep Pegasus full time.  He had to travel a lot, and was having a hard time keeping his enormous dog where he was living.
"A saviour stepped in and helped look after Pegs while I tried to make a plan and she moved back and forth, which was disruptive for her. After months of no solution, it was obvious that her new set up with incredible love, a bigger garden and a new best friend in Luna, another Great Dane, was more than I could offer.
"I am lucky that I get to visit and take her for short periods, and maybe that's why in my heart she's still with me. It's always difficult. If the dog is happier, do you forsake your happiness? I think yes. If a dog is negligently bred, should it be killed to prevent more negligent breeding? I think no. Who's to say. In the end we try our best and our pets teach us lessons about love, humility and non-judgment."
….