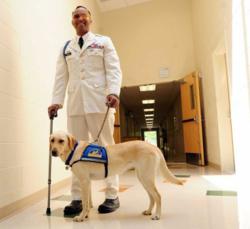 An injured war hero has been given a life changing gift: Canine Companions for Independence has recognized Captain Thatch, a patriot who gave up a private sector career to join the fight in the war against terror – by awarding him with a new service dog.
"As we honor the contributions of Asian-Pacific American Heritage month in the United States, a story that should be shared is of an Asian-American who has sacrificed so much for our country, Vietnamese-American United States Army Captain James Van Thach. Captain Thach walked away from a career as an aspiring lawyer when he graduated from Touro Law Center in 2002, after the terrorist attack on our country on September 11, 2001 and requested to join the Infantry, which are land based soldiers specifically trained for the role of fighting on foot to engage the enemy face to face. Historically, the Infantry has borne the brunt of the casualties of combat in wars to defend America," says Tommy Nero Sullivan of V.I.P. Promotions.
"After serving two arduous years in combat in Iraq, where the government of Iraq presented him the honorary rank of Staff Brigadier General and being twice wounded and earning the Purple Heart, Captain Thach now has a life filled with numerous medical appointments every month in the hope that he can have a manageable life, despite his injuries," said Nero.
"I knew that I needed to do all that I can to help defend our country against terrorism before they can attempt to attack our country again", says retired military veteran Captain Thach.
"I want very much to be a productive member of society but my war injuries hinder my ability and I am very fortunate to receive my service dog Liz, which will allow me to continue to fight to gain my independence," said Captain Thach.
With his new friend at his side, Thatch says that independence is now within reach. "With the assistance of my service dog Liz, my physical disabilities will not hinder me any longer."