Manny Guzman's best friend is his dog, OG, who he rescued as a puppy.  When they were involved in a car accident, OG bolted.  Manny was badly injured, but that didn't stop him from running after his boy, saving him after he was involved in an additional crash.
OG and Manny have been inseparable for the past 10 years.
"I got him in Glendale, Arizona when he was six weeks old," he told Fox 7.  "Some people came up to me and asked if I wanted him because they were taking him to the pound. I said I would take him and I've had him ever since. He's always been with me."
Last week Tuesday, Manny and his wife Rosa had OG in the car with them when they were involved in a collision in an intersection in Austin, Texas.   Manny sustained injuries to his head, ribs, and leg.  But that didn't stop him from chasing after OG, who fled the scene.
"I thought I was going to find him dead," he said.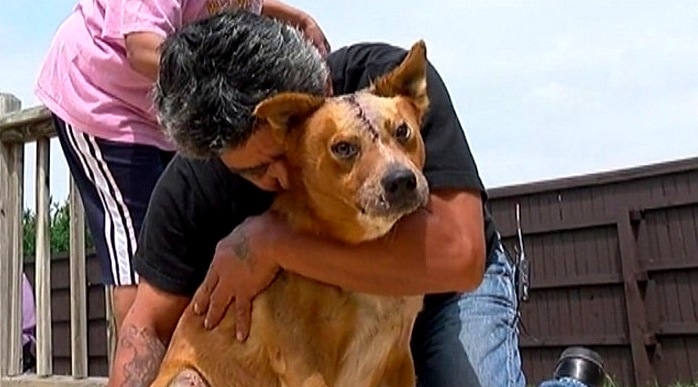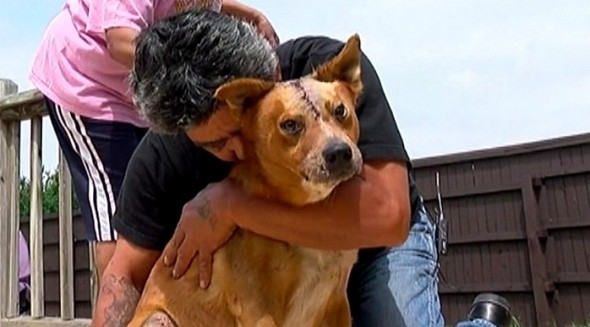 His stomach sank.  OG was lying in the road; he had been struck by a car.
"I just grabbed him and was telling him that I was sorry that this had happened to him," Manny said.
Firefighters offered to help Manny when they saw him carrying OG, and they took him to a vet for treatment.
"The dog had pretty good lacerations on its head, bleeding quite a bit," said Austin Fire Department Lieutenant Jim Baker.
"I'm glad he's not dead or else I would have died," Manny said.  "I mean I don't have any friends or anything, he's my friend. That's why we're so close. He's my friend, he's my buddy, he's my brother, he's everything to me."
OG is now recovering, and Manny is eternally appreciative to all those who helped keep them together.
"I'm grateful to everyone that was there to help him, to help us. Especially Engine 1 and Lt. Baker."