Boston News, Weather, Sports | FOX 25 | MyFoxBoston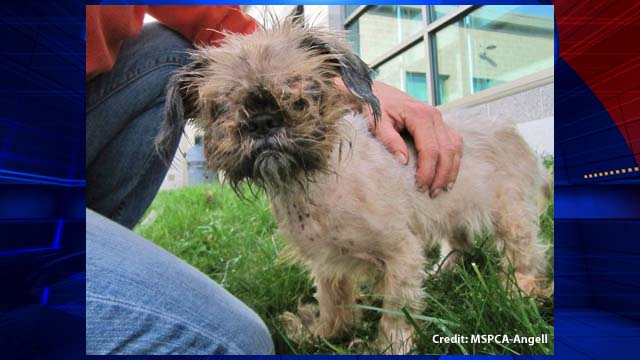 Early last month a neglected dog was found after being dumped by her previous owner. Her fur was severely matted, she was deaf and she had gone blind from a serious eye infection. Now after a month of care she has found a loving home with one of the shelter employees that fell in love with her.
On October 2nd someone found the neglected Pekinese mix in their Dorchester, Massachusetts yard and brought her to the MSPCA-Angell Animal Medical Center. The staff at MSPCA-Angell named the dog Petunia and began helping the severely neglected dog. They shaved her matted fur and trimmed her nails which had started growing into her paws.
After a medical evaluation they discovered Petunia's eyes were so severely infected that they would have to be removed. Petunia first had to put on some weight though before she could undergo the surgery.
"This is one of the most severe cases of neglect I've ever seen," said Dr. Cindi Cox.
Petunia had been through a lot, and staff believe because of her conditions she may have been locked in a crate for possibly years.
Petunia had been through a lot, but she was still a sweet dog in need of a good home. One of the staff members at the adoption center knew that she wanted to give Petunia that home.
"I was struck by Petunia's incredible will to live and, having played a role in getting her past the worst of her health issues, I knew I had to take her home," said Kati Armour who adopted Petunia.