————————————————————————————————————————————————————————————————————————————–
For two years, the folks in Kennesaw, GA, who cared for Shelby (they even named her!) did what they could. Behind the office building where they worked, they'd leave food and even toys for her.
"They put up a tarp in the woods," Jason Flatt, founder of Friends to the Forlorn Pitbull Rescue, told The Dodo. "They put signs up. They spoke with the management of the property about her."
Despite all their efforts, though, they couldn't get poor Shelby out of the small bit of forest she'd claimed as her new home. Every so often, the sad-eyed dog would come out to the edge of the trees, near an apartment complex her caretakers theorize she may once have lived with owners who moved away. She lived in the woods for two long years.
Last year, one of the office workers called Flatt, hoping he could trap the dog and find a home for her, but at the time, he was was too busy, his rescue full to capacity with dogs already looking for homes. Besides, it seemed the dog was at least safe and under the circumstances, cared for.
But recently, the situation had become much more urgent. Developers were set to bulldoze the woodsy spot where Shelby had been living, so Flatt rushed to help.
Shelby had gotten used to having food left out for her, so trapping her wasn't difficult.
"I came back in the pouring rain," Flatt recalls. "I got out of my van and I heard whining and howling. There she was in the trap."
Though she was a bit out of practice at being social, Shelby's desire to love and be loved emerged quickly. She went from feral to "family dog" in three days.
"On the first day, she was nervous, but I could pet her," Flatt said. "By the third day, she was jumping up and down."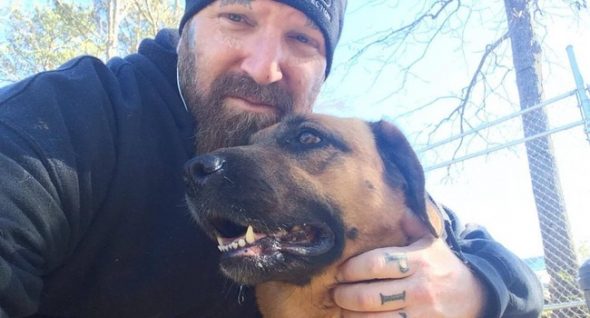 ————————————————————————————————————————————————————————————————————————————–
And giving lots of kisses.
Shelby was vaccinated and vetted; it was discovered that she's heartworm positive, but the condition is treatable.
Now all she needs is a new home.
Interested? Get in touch with Friends to the Forlorn via the rescue's adoption page.
And if you would like to support Friends to the Forlorn in its mission to save countless dogs like Shelby, consider making a donation.