In Camden, SC, a sweet female dog named Katie is looking for guardian angels to help her live a better life. Katie is in need of surgery to remove large benign tumors growing on her stomach. The problem is Katie is a homeless shelter dog.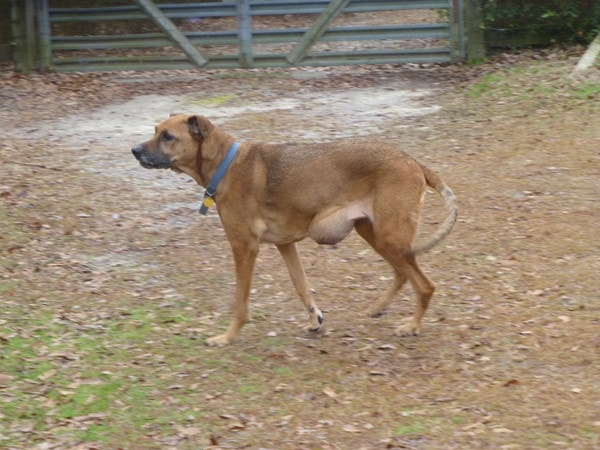 Katie wasn't always homeless. The sweet nature canine had an owner that loved her and took good care of her, but unfortunately her owner died while serving our country in the military.
When her owner passed away Katie was taken to a county shelter in South Carolina. There, she had little hope to continue living the spoiled life she was used to. Fortunately for her, Dog4U Inc., a volunteer run no kill non-profit 501 c 3 organization came to her rescued.
The organization rescued Katie and they are now trying to raise funds to cover her life-saving surgery.
"[Katie] has several large benign fatty lipomas that were biopsied and found to be non-threatening," said Dog4U Inc. "However the size of the fatty tumors, prevent her from living a comfortable life."
Dog4U Inc. is afraid that if the tumors continue to grow, they will rupture and the dog's life will be in greater danger.
"It is difficult for Katie to lie down comfortably due to the size of the tumor on her belly. If Katie has surgery she can live a normal happy life and find her forever home," Dog4U Inc. continued.
Katie is house broken, heartworm negative, spayed, and microchipped. With the surgery she will be more comfortable to wait longer until her new forever family comes to her rescue.
Dog4U Inc. does have a facility where many of their rescue pets are cared for, however the organization relies heavily on foster families, and throw them their rescue pets enjoy a loving home environment.
If you want to help Katie please consider making an online donation.
Learn more about Dog4U Inc.