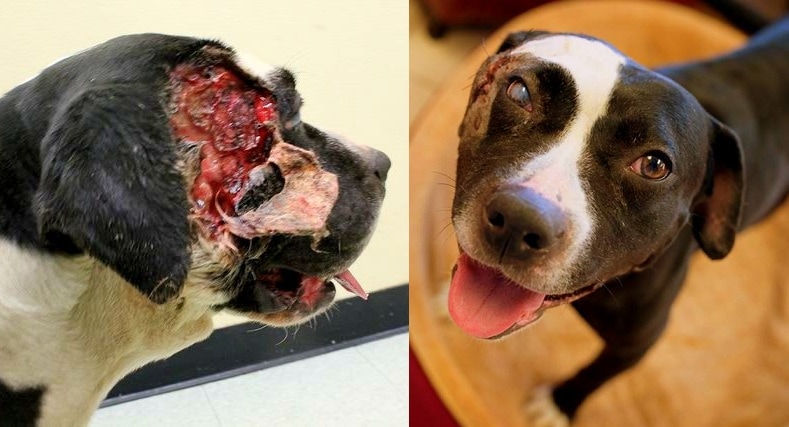 Genesis was found in Philadelphia in December, chained up and left to fend for herself in the snow. She was brutally mauled by another animal, but has since been taken in by a rescue group and foster family. Now that she has healed, it is time for her to be rescued again – by a forever family.
Jenny, since renamed Genesis (Genny), was dropped off at Philly ACCT (Animal Control & Care Team of Philadelphia) towards the beginning of December. She had a massive gaping wound on the side of her face, and a cloudy eye – perhaps a result of her injury. She appeared to have been attacked by another animal, and having been chained to a pole, had no way to escape.
ACCT reached out to Bella-Reed Pit Bull Rescue, a nonprofit organization in southeastern Pennsylvania that runs strictly through foster homes and online. Genesis received immediate medical care and fostering. Her wound was bad, and vets had to trim away all the dead tissue. It left the patch pink and oozing blood, but it was a good sign that there was no necrotic tissue and that her face could heal. It was also revealed that she was suffering from a corneal ulcer and had parasites.
During her stay in the ICU, Genesis was brought lots of toys and treats. Despite her horrific ordeal, she remained sweet and calm; grateful for her rescue and loving care, and ready to cuddle anyone who showed a little kindness.
A fundraiser was created to get Genesis all the medical treatment she needed. The goal was $5,000, but it was quickly met and surpassed by $2,500. Any extra funds will go towards other dogs in Bella-Reed's care.
Over the next several days, tests and examinations were performed to get a better picture of her health. Thankfully, she was free of mange and Lyme disease. She was given antibiotics and spayed, and had her wound sutured closed.
After her surgery, she was brought to a foster home, where she has been for the last couple of weeks. She continues to heal and grow stronger. She will likely always have a scar on her face – a testament to what a courageous, strong and wonderful girl she is. Most of her healing is complete, and Genesis is ready to find a forever home.
If you would like to become Genny's family member, please visit Bella-Reed's website. They have many other beautiful and sweet dogs that need homes, too. If you would like more information or updates, please visit their Facebook page. If you would like to send Genesis a gift, please visit her Amazon Wishlist.