When Lana, a four-year-old bullmastiff was found as a stray, she was just a little puppy.  But we all know that they don't stay that way for very long, and the family that took her in couldn't keep her.  She was taken to a shelter, but wasn't there long before finding a family.  However, after three years with that family, they brought her back to the shelter.  Talking about fostering abandonment issues…
It's now four months later, and Lana is still at the Arizona Animal Welfare League and SPCA.  Things there have been tough on her, and it isn't difficult to see why.  She's had a family before.  Two of them at this point, and she just seemed very, very depressed.  When one of the shelter workers saw how sad she was, she knew that she couldn't let it stand.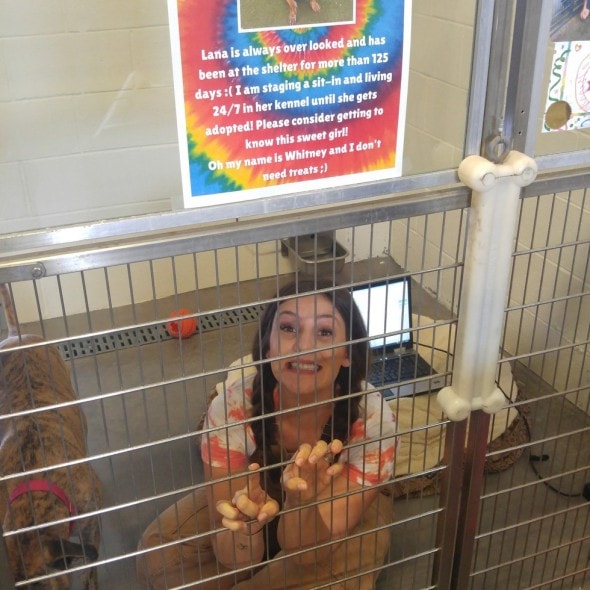 In an effort to bring awareness to Lana's cause, and the plight of so many other shelter dogs just like her, Whitney Steele has pledged to live in Lana's kennel with her until she is adopted.  Steele is the director of volunteers and events with the shelter, and is dead serious about this.  Twenty-four hours a day, seven days a week, Steele will be in Lana's kennel with her.
According to Michael Morefield, marketing and communications manager at the shelter, "Whitney is learning a lot about what Lana goes through every day, and even though we have an amazing facility, it's not a comfortable, loving home.  Even after one night, Whitney has really taken that to heart and misses home, and Lana has been doing this every day for over four months.  That was a hard realization."
Local businesses have been bringing food by for the two.  Steele has even been holding meetings while in the kennel.  She's even been sleeping on a dog bed in the kennel, just like Lana has to.  It's a total "kennel life" experience.
"They have really bonded and are going through all those fun roommate situations: who ate the last slice of pizza, who stole the pillow, and what to watch on Netflix," said Morefield to The Dodo.
The real aim of all of this is to find a home for Lana.  Everyone needs to know how amazing she really is, and how much she really deserves one more shot at the forever family she deserves.  She loves to go on hikes, and also to take long naps cuddled up with her kennel mate.  She very smart and athletic, and would make a great addition to any active family.
"She is a strong, independent woman who is also really humble, so Whitney is helping show her off," said Morefield.  "Everyone needs a hype man every once in a while, and if Lana is too humble to tell people how great she is, we are going to do it for her!"
If you'd like more information on adopting Lana, you can click here to be taken to their website, or call the shelter directly at 602-273-6852.  Special thanks to The Dodo for sharing this story!