…..
An Arkansas woman was just outside of her home when she was assaulted by a man attempting to rob her.  But before anything serious could happen, her old, sick pit bull came to the rescue and chased the man away.
Millie Fiser had gone to the curb in front of her Little Rock home to pick up garbage back in January, 2014 when a man snuck up behind her and knocked her to the ground.
"I didn't see or hear anything behind me," Fiser told KATV. "The next thing, I just got a real hard shove. I got knocked to the ground and hollered, 'Champ, Champ, help!'"
The man repeatedly screamed at her, demanding money.
"I think it was just a random act or just desperation maybe," Fiser said. "I don't know."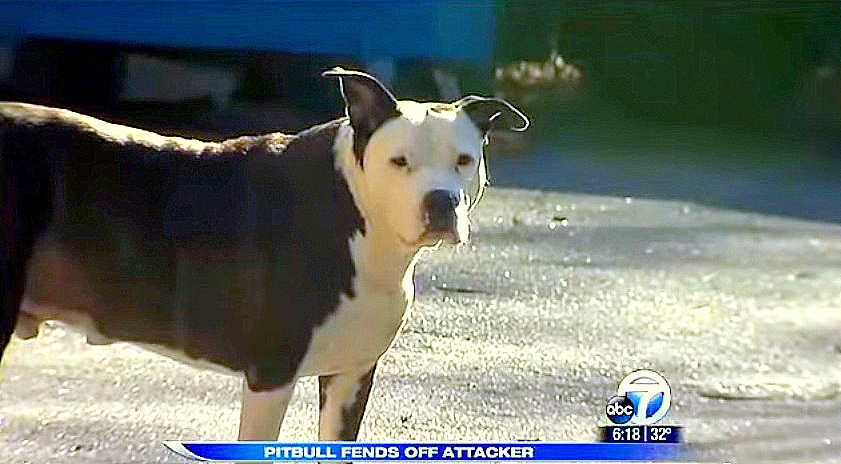 The man never stood a chance.  Fiser's pit bull, Champion Bartholemew Aloyisius 3000, had been behind the picket fence.  Though the nearly 12-year-old dog had arthritis, he immediately came bounding after the assailant and scared him off.
""If Champ hadn't come around the corner as quickly as he did, I have no doubt it would have been a lot worse situation than it was."
Neighbors call him an attention-loving gentle giant, and Fiser says this is the first time he's ever shown aggression towards anyone.  After the man fled, Champ dutifully returned to his owner's side and lay down next to her and kept her warm until help arrived.
"I have no doubt that Champ saved my life, and I've often wondered if, you know – I know he would literally die for me, and so this was a real good example of you know, he's right there for me – always."
…..