Whisky the 17-month-old West Highland Terrier from Felixstowe, Suffolk, heard a flock of seagulls on the roof of his home, and as any curious dog who loves to chase things, he decided to find away to get close to them. The curious puppy found an open window on the second floor, climbed through it and got stuck on the roof for over two hours.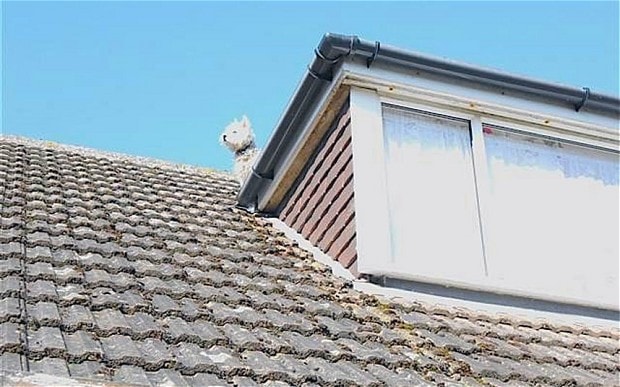 Jenny and Richard Eacott, Whisky's owners, heard barking upstairs but weren't unaware that their dog was stuck on the roof.
"My husband remarked, 'the seagulls are big this morning' because he could hear more noise than usual," Jenny told The Telegraph.
The Eacotts didn't realize their mischievous dog was stranded on their roof until they took their other dog named Jazz, out to the yard and she kept barking and looking at the roof. Immediately the worried pet owners tried to coax Whisky back into house, but the dog was too afraid to come in.
There was nothing the pet owners could do to bring the silly canine inside. Firefighters were called to come rescue the pet.
Four firefighters from the local brigade arrived at the home and using their ladder they were able to reach the dog and bring him down to safety.
The Eacotts were grateful the hero rescuers saved their dog and promised to keep a closer eye on their pet.