A blind, overbred boxer who had been left to die is recovering thanks to the actions of six-year-old Cara Bideau and her father Kenny, who took in the poor dog and got her the help she needed.
Cara was playing near her home in Londonderry, Northern Ireland when she found a distressed dog trapped in a concrete hole.  She ran home to tell her father, who came to the boxer's rescue.
"Cara came home and said a pup had fallen down a manhole, but when I went with her back to where the dog was I could see that wasn't the case at all," Kenny explained.  "This was an adult dog that was left to starve to death down this concrete hole.  A wooden pallet had been placed over the hole and rocks put on top to keep it there, so that the poor dog couldn't get out.
"I was even more shocked when I freed the dog to see how her ribs were sticking out, so it had been quite a while since she had eaten, and then to top it off, we found out she was blind. It is beyond my understanding how anyone could be this callous.
"We are a family of animal lovers and have a dog ourselves, so we took her home with us and gave her a tin of food, which she gulped down in under 15 seconds."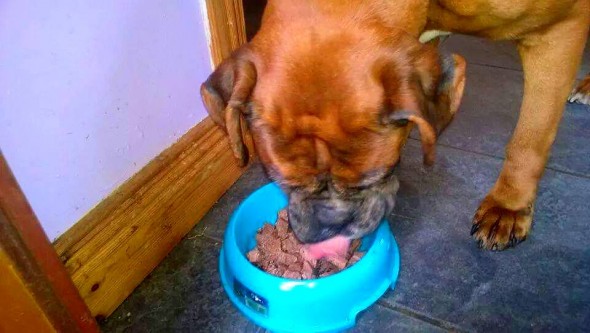 "We kept her at home that night and let her sleep on the sofa because she was clearly exhausted and distressed. In fact, my 15-year-old son Ethan slept on the other sofa to help her settle before we contacted the Rainbow Centre.
"We would consider fostering the poor dog until a permanent home can be found for her. We reckon she deserves to be shown some love after what she has been through, and she is very gentle and affectionate."
Helen Davis of the Rainbow Rehoming Centre took the dog to a veterinarian, who believes she was used for numerous breedings, and then abandoned when she became elderly.
"The vet has found evidence that this dog was bred and bred and bred until she could no longer produce pups.  She is emaciated so we can only guess how long she had been left in this concrete grave and left to starve to death," Helen said.
"Just recently I gave evidence at an animal cruelty court case in Northern Ireland where the judge told a woman it was the worst case of animal cruelty he had ever seen, but then he let her walk free from court with a suspended sentence."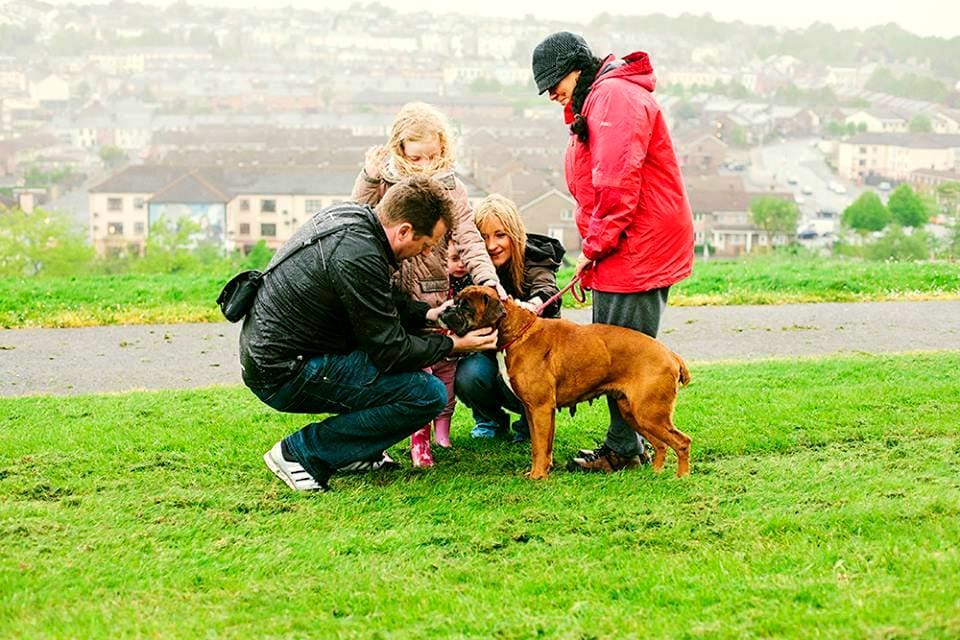 "That is sending out the wrong message – in my opinion people need to be spending time behind bars for behavior like this.
"I have lost count of the number of times we have come across instances like this boxer dog where animals have been used to churn out pups for sale by people who run puppy farms, and they are getting away with it. Thousands of people took to the streets of Belfast a couple of weeks ago to show how sickened they are by animal cruelty and it was heartening to see."
The dog, called Bella by the Bideaus, spent the night with her finders and enjoyed a fantastic breakfast of four ribeye steaks.  Now she is recovering in a foster home.  The Rainbow Centre has been keeping people up to date on how she's coming along:
"Bella update:  Bella is now safe, warm and cosy in one of our volunteer foster homes. We would like to thank everyone who sent messages of concern and well wishes for her and to everyone who donated to Bella. She has touched the hearts of many including our own. We will in the days to come keep you all updated."
If you would like to contribute towards Bella's care, please click here.