St. Pete Police Officer Jeffrey Yaslowitz and his K-9 Ace were an inseparable team. "This dog, he was perfect," says Jeff's wife Lorraine. "Their relationship, I almost envied it. I envied Jeff more than I did Ace, that he had this dog that waited on everything he did. Ace circulated him and protected him," she said.
Unfortunately, that protection was not enough to save Officer Yaslowitz when a fugitive shot and killed him in the attic of an area home last January, leaving Ace without a partner and forever changing the lives of his loved ones.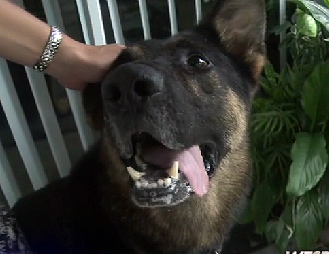 It came as no surprise that Ace took the loss of his partner very hard. Mourners at Officer Yaslowitz's funeral were saddened to witness the agitated dog barking and crying and lunging at the end of his leash, seemingly in search of his fallen master.
Fortunately, as fate would have it, that was not the end of this sad tale – instead, it is the beginning of a new chapter in the lives of the slain officer's family. Pictures and mementos line the walls of their home, and a living, breathing reminder of their lost loved one has taken up residence: Ace has retired, and is now safeguarding the family of his fallen partner.
"He's a protector, he's a pet," says Lorraine. "He's a legacy to Jeff…he belongs here."
On one wall of the house hangs a touching poem written by a family friend. Lorraine looks at it often, and pauses at a line that reads: For I know he will be watching and I will honor his life and become his protector for his kids and his wife. Choking back tears, she says, "I read that poem and I thought, no Ace is supposed to be here forever; 'til we all die, that's his job now."