Kelly Lang and Joe Miller, owners of Pawn Spot on North Murray in Colorado Springs, never imagined their 6-month old pit bull puppy, named Chunk, would be stolen right from under their noses, but that is just what happened when the trio went to work.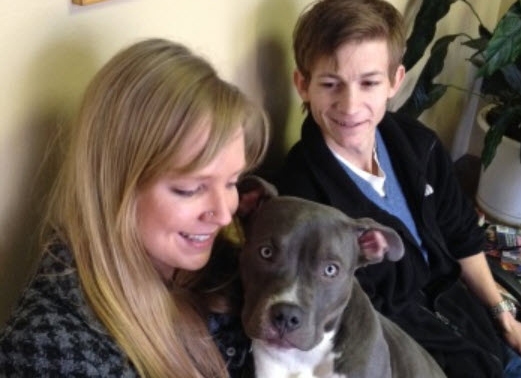 On Feb. 17, 2014, Lang and Miller took Chunk to their store as usual, and in the middle of their busy day, someone thought it would be opportune to walk out with the dog. Luckily for the pet owners, the thieves were caught on security cameras.
"Our beloved puppy was stolen from our store….we have camera footage of them taking our pup," Miller told KKTV News 11. "However we cannot positively ID the people. Our family is devastated!"
The owners took to Facebook to inform their community about their missing pet. The flyer they plastered on the social media network went viral and helped them reunite with their beloved dog.
A local probation officer had seen Chunk's flyer on Facebook and recognize the dog as one of the pets he had seen on one of his home visits. Immediately the officer contacted the parolee who admitted to stealing the dog.
The thief had sold Chunk already, but he cooperated and gave the probation officer the buyer's information.
When Chunk's buyers learned he was stolen from his loving and true owners, they willing returned the pet to his rightful family.
On Friday, Feb. 21, 2014, Chunk was once again in the loving arms of his true owners, Lang and Miller.
"Chunk is always, always happy and always makes me smile," Kelly Lang told KOAA 5 News. "He's the best dog I've ever had."