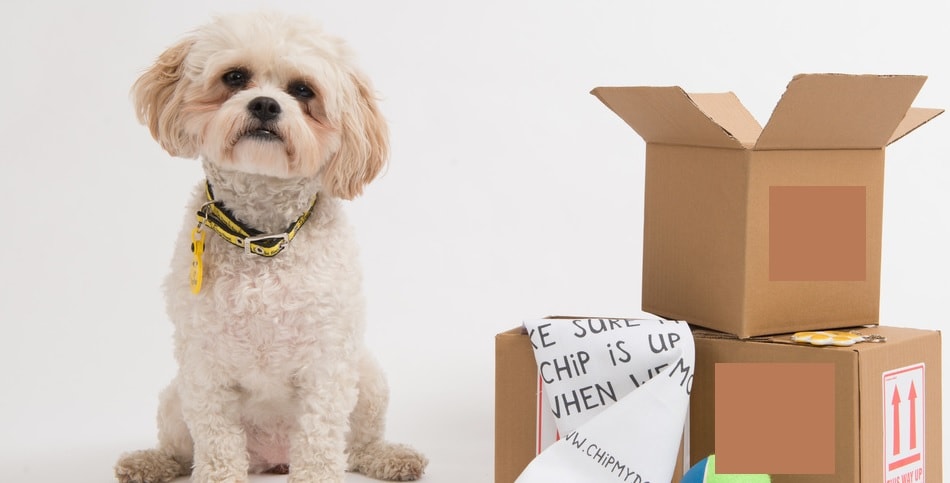 August is one of the busiest moving months of the year.  While moving can be overwhelming and stressful for people, it can be even more traumatic for pets.  From watching you pack your belongings to loading the moving truck, your furry family members can become uncomfortable from too much change. Pets also have to adjust to a new environment, which can leave them feeling confused, vulnerable and scared.  Not to mention how dangerous it can be for pets to roam around in the midst of your move.
Thanks to Camp Bow Wow, we now have a really great list of things you can do to make the transition to the new home easier on both you and your pets.  Some of this may seem like common sense stuff, however for those of you that are new to having a dog as a member of the family, these tips may prove invaluable.  And these may be written in a manner geared towards dogs, but these tips could help with other pets as well.
Before the Move:
Ensure tags and microchips are up to date with your new address and any phone numbers.
If possible, visit your new home with your pet before you move to help them acclimate. This way, when you do move, the new place won't seem as foreign.
If you aren't able to take your pet into your new home in advance, consider walking them around the area/new neighborhood instead.
Stick to your pet's regular routine while you are packing up your current home (feeding time, walks and potty time, bed time, etc.) to help alleviate the stress of change.
Inform your vet of your move, get your pet's medical records, and find out where the closest emergency vet is to your new home.
During the Move:
Take your pet to a boarding or daycare facility for moving day to ensure they aren't at risk of running away, being stepped on by movers or becoming lost in the shuffle.
If boarding or daycare isn't an option, ensure your pet is in a safe, enclosed room or crate that is in a separate room from all of the moving activity.
When transporting your pet to the new home, do so in a crate or safety harness so they aren't able to jump out of the car upon arrival and can be smoothly brought inside.
Make sure there is a clear path to your pet's food, water and bed. Don't make them hunt for these things!
Use your pet's bowls, bed, leash, and toys from the old home. While we may like to throw things out and start fresh, this isn't the time to do this with your pet. Your furry friend's favorite belongings will keep a sense of familiarity and help ease stress.
Make sure that any time your pet plays outdoors, it's in an enclosed area with close supervision.
Move any boxes and unpacked items to areas where your pets cannot get to them (for example: a closet, spare bedroom, or gated area.)
Making Your Pet Comfortable in Your New Home:
Keep your pet on the same schedule (feeding time, walk and potty time, and bed time) as best you can. Pets thrive on schedules, so sticking to the same schedule as before will help ease the shock of a new environment.
Limit your pet's access to the full home for the first few days. Allow him to adjust slowly by keeping them near you to start off, and gradually increasing the number of rooms available to them as they grow more comfortable.
Show your pet where their food, water, potty area, bed, and toys are.
Make sure you give your pet the attention he's used to!
It takes time for a pet to adjust to a new home, so be patient with him. If stress or anxiety doesn't fade, add a little more exercise or playtime to your routine.