A Forth Worth, Texas dog is recovering from his life on the street and the ordeal of having a jar stuck on his head for three days.  Pickle would have soon succumb to dehydration and oxygen deprivation had animal control officers not come to his rescue when they did.
The one-year-old pit bull mix was seen wandering around the neighborhood of Meadowbrook last week with his head in what was reported to be a large pickle jar, prompting the nickname Pickle.  Animal control officer Randall Mize responded to the call for help.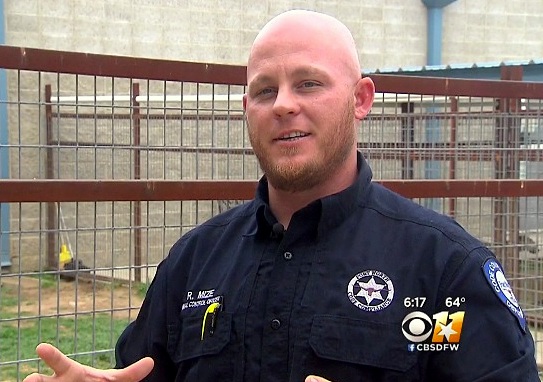 "When they called us, they said the dog was actually laying down at this point," Mize told CBS DFW.
And it wasn't a pickle jar that was stuck on his head:  "That's actually one of those cheese balls containers."
The pup was in pretty rough shape, looking bony and ragged, and definitely in need of some TLC.
"He was pretty dehydrated, we brought him in, brought him back to the medical treatment ward," Mize explained.
Pickle is now being cared for at Fort Worth Animal Shelter.  Though he's not small, this sweetheart is said to be the perfect lap dog.  He will be put up for adoption soon, so check here if you're interested in adopting Pickle or any of the other cutie pies currently available in the Fort Worth area.