When Adonis, a stray Pit bull from Texas was found, he had a large gunshot wound on his back. It measured 7 inches wide and was just a hairline away from penetrating his spine and leaving him paralyzed.
He was found living under an abandoned house and was taken into a vet to be euthanized, but because the person who found him didn't have enough money to pay for the procedure, they were turned away.
This was the best thing to happen to Adonis. The dog then ended up at Montgomery County Animal Shelter and a photo of his injury saved his life. The graphic image was seen by rescuers from St. Francis' Angels and they pulled him from the shelter and nursed him back to health.
St. Francis' Angels at first were cautiously optimistic about Adoni's survival chances. His injury was most likely from a high velocity deer-shot at very close range. It left him with nerve and spine damage. When found the dog was also was fighting an infection, was prone to respiratory arrest, and was unable to potty, but thanks to the excellent veterinary care he received, the injured dog got better and survived.
Adonis' large open wound was treated with skin grafts made with BioSIS, a new material made from pigs' small intestine submucosa. Vetrix, the skin graft manufacturer, donated all grafts for Adonis' treatment and thanks to the new product, the injured Pit bull's wound decreased from its original size of 7 inches to just 1.5 inches.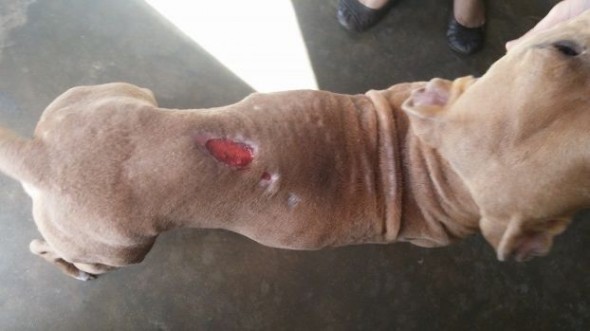 Right now, the former stray is enjoying his new life as a pampered pet while in foster care at The Pawza, a pet hotel in Richmond, Texas. Once he is completely healed, St. Francis' Angels will make him available for adoption. Thanks to his friendly attitude and love for all humans, Adonis will make a great house pet.
To see photos of his original wound go here. WARNING, these are graphic images.