A stray dog from Rivadavia, Argentina, found her forever home with an elderly couple who took her in when she was in need. She was pregnant and malnourished, and after being nursed back to health and helped delivering her pups, the dog and her babies were placed in new loving homes. However the stray wanted to stay with the Good Samaritans who initially took her in, and the pet walked 161 kilometers (about 100 miles) to get back to the house she determined was her forever home.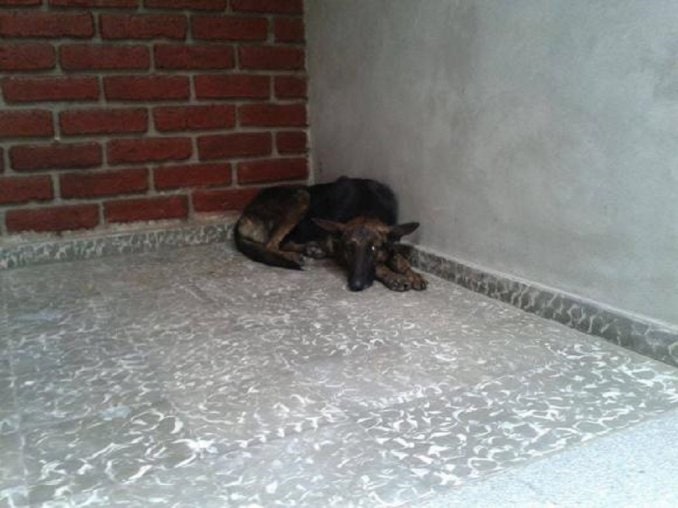 The stray's name is "Negrita" (Spanish for black), she was roaming the city streets of Rivadavia and due to her advanced pregnancy and under weight state, the elderly couple who found her took her home. They cared for the momma dog and helped her deliver her babies. Once the puppies were weaned, they were re-homed to loving responsible homes.
Negrita felt at home with the elderly couple, but her humans felt they were too old to own a dog. They contacted a friend living in Jáchal and made arrangements to transport the dog to her new home.
Two weeks after re-homing Negrita, the dog disappeared from her new home. Her new owner searched for her but was unable to find her. Weeks later Negrita showed up in Rivadavia again.
Determined to get back to the humans, Negrita walked from Jáchal to Rivadavia until she arrived at the elderly couple's home. She was exhausted, hungry, skinny and hurt. Her paw pads were worn out from the long distance trek and after drinking water the dog found a comfortable spot in her home and slept for 24 hours.
The elderly couple contacted their friend in Jáchal to tell him Negrita was back with them. The man offered to pick her up and bring Negrita back to his house but the senior couple said Negrita was staying with them.
After walking 161 kilometers (about 100 miles) to get back to where she felt safe, there was no way the elderly couple were turning their back on her. Negrita was home to stay!