A stray, pregnant dog called Magic created a den in some shrubbery to have her puppies.  Hungry and cold, she entrusted her babies to the woman who had been feeding her by leading her into the woods to find them.  They were all rescued, and once weaned, the puppies were adopted out, and Magic was adopted by the woman who found her.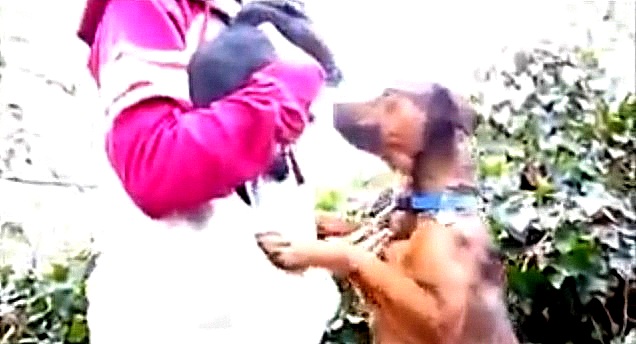 From the Brother Wolf Animal Rescue:
Magic gave birth to 6 babies – 3 boys and 3 girls. A stray dog, cold and hungry, she found the best shelter she could to give birth, in a den in the woods, under some trees for shelter. When the babies were about two weeks old, Magic went to a woman who lived nearby who had been feeding her, and led the woman into the woods to the little den where the puppies were living.
The woman called Brother Wolf Animal Rescue, and this is a video of the day the BWAR volunteers arrived to bring the babies and mom to a foster home. All of the puppies have since been adopted, and as soon as the babies were weaned Magic was spayed and returned to the woman who had first found her, to be loved and cherished as part of her family.