Most of us are familiar with what gets called, "the buddy system."  For human kids, is a way to help avoid stranger danger, and true or not, just about everyone subscribes to there being safety in numbers.  All of it really boils down to one thing, and that's having someone by your side who understands and loves you no matter what.  That is exactly what we seem to have here.
Kingston and Lola met in foster care.  They may have only had about four weeks together, but those four weeks were just about the best four weeks in Lola's life.  They played, cuddled, and for Lola, something changed in her that took her from a dog that just cannot calm down, into a mellow creature who loves to love.
"They play, they cuddle, they're just a good team," said Susan Robelli, the dogs' foster mom, and a volunteer with A Rejoyceful Animal Rescue, to The Dodo.
Kingston and Lola both had very rough starts in life.  Kingston was kept at the end of a very short chain that was immensely heavy, and had never really been indoors.  He went through a lot, but he was still a really great dog with a really great attitude!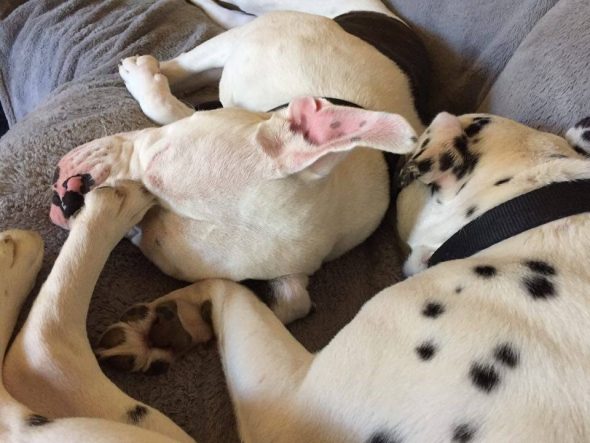 "A Rejoyceful Animal Rescue goes into the city of Flint, knocks on doors of people who have a dog chained in the backyard and offers assistance," Robelli said.  "The organization educates them to get the dog taken into the house, and medically and physically taken care of.  Rescuers were out doing their thing, and saw Kingston running down the road with a padlock chain around his neck attached to a tire.  They stopped him, and took him right to the vet.  He had cuts all over his neck and face."
Not long after Kingston's rescue, Robelli was called upon to assist with another dog needing foster care.  She had been rescued from a man that bought her at a puppy mill, and he had kept her in a cage her entire life.
"She was 8 weeks old when he got her, and he could never take enough time to take care of her and train her, so he kept her in a crate," Robelli said.  "Then his work hours changed, and he started keeping her in this crate 24/7.  She was pooping in her crate, she was eating in her crate — everything.  She had sores on her legs for the crate being too small, and she had no socialization."
All of these things, as one might expect, had led to some serious behavior issues.  The poor dog is downright manic at times, and there just didn't seem to be a way to get her to calm down.  No matter what anyone tried, things seemed to only stress her out more.  Little did anyone know, but what Lola needed in her life, was Kingston.
Kingston and Lola's meeting was completely by chance.  They had been recruited to take part in an on-air marriage proposal on Valentine's Day, where four rescue dogs would have a sign with one word on it: "Will," "You," "Marry," and "Me."  From the moment they saw each other, they just knew.
"They met there, and Kingston fell in love with her and started kissing her," Robelli said.  "Lola's just kind of a crazy girl, so it was pretty impressive to everybody that he could do that.  Kingston walked right up to Lola and kissed her!  Lola instantly wanted to play, but we were in closed quarters so they just smelled each other and hung out."
From then on, the two were NEVER far from each other.  They played together, slept together, and did everything together.  It was almost as if Kingston knew he needed to be a therapy dog for one of his own, and just did what came natural.  The two of them really helped each other out, and it's a very beautiful thing.
"Kingston didn't have the inside skills, because he was a street dog, so he didn't know how to behave in a house," Robelli said.  "Then here comes Lola who isn't afraid of anything, so she kind of guides him, and he's confident to try things because of her.  I have been with dogs my whole life, and I have never had a dog this eager to learn and this smart.  For instance, Lola learned that she likes ice cubes, and now every time she walks by the refrigerator, she has to do a quick look to see if there's any ice there.  She notices everything and she's funny."
If you're interested in adopting Lola, contact A Rejoyceful Animal Rescue. You can also help them save more dogs by making a donation.