The TAILS program is celebrating another round of successful graduations, as five inmates and five rescued dogs complete their intensive training. San Mateo County inmates selected for the program are given a rescue dog from the Peninsula Humane Society to care for, with supervision, for a period of eight weeks. These dogs are shy, terrified of human contact, unsocialized, badly behaved, or have a variety of issues which make them unlikely candidates for adoption.
TAILS stands for Transitioning Animals Into Loving Situations. The rescue dogs are paired with a suitable inmate, and they are together around the clock for eight weeks. The dogs have their own crates in the cells. The dogs and their handlers attend intensive, rigorous training sessions daily for the duration of the eight week course. The course teaches the dogs basic manners and behavior, including sit, stay, leave and down. Leash manners are also taught, as well as controlled greetings and socialization with humans and other dogs.
The inmates also benefit from this course, receiving structure and discipline, while connecting with another being. The inmates learn the importance of social skills and how to put the needs of something else before themselves. The program has really helped the inmates form bonds as they provide care for a dog that relies so heavily on them.
Many of the inmates naturally grow very attached to their temporary companions, and want them to find loving homes.
Facility trainer, Martina Contreras said. "Some of these guys have burly looks, but I've seen them crying when they have to give up their dogs."
One of the inmates, Jarette Shank, describes how much he will miss his new found companion, Reese, who is a pit bull mix, saying "He's a good dog, real trainable, and lovable. He'll be great for a family."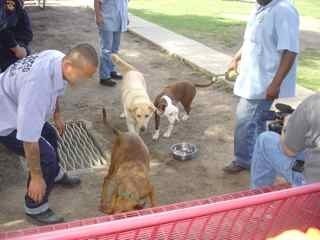 Reese, now a well-adjusted dog, sat calmly at Shank's feet, wagging his tail and waiting for a treat. Reese is a pit bull lab mix. Of the five dogs who have graduated from this round of courses, one is a puggle named Melleo; Layla, a chihuahua; Belle, a black lab; and Zeke, a pit bull.